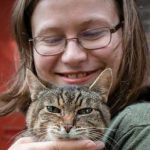 Active 8 months, 2 weeks ago
About Me
| | |
| --- | --- |
| Display Name | Joule K Zelman |
| Twitter Handle | @vivapetronella |
| Website | |
What I Write
Writing Sample

They say that in the village of Provins around the year 1680, a baby was born covered in fur. The mother passed away soon after, and the father and three older sisters took care of the tiny girl. She was baptized Christine, but the sisters called her Belette, "weasel," for her sleek chestnut coat.

She grew and her fur became ever softer and shinier. Her sisters spoiled her, running pony-brushes over her back and arms. But all too soon a woman's body was shaped under the thick pelt. The sisters married and moved to other houses, the home grew sparser and sparser, a widower still in mourning and a strange young girl with a coat that gleamed ever glossier.

Unfortunately, as ocelots, beavers, and bears the world over know, just because something grows from your skin doesn't mean others will consider it yours.

Madame Ferre was a rich merchant's widow who had an excessive love of fineries. But one day, as her hansom bumped over the track from her manor to the town, she saw the strange girl carrying a basket of eggs. It was raining, but the drops of water tumbled down Belette's neck and arms, and she seemed to take no notice but for the occasional toss of her furred head. Madame Ferre felt the scratch of her wool wrap on her nape. She bade her carriage stop alongside the surprised girl.

"Would you like to be employed in a fine house, where you can sleep on fine linens and dine on roast chicken and duck?" asked Madame Ferre, gazing not at Belette's warm amber eyes but at the triangular white patch upon her breast. One would have called the girl's garb immodest, save that the fur veiled all. Belette's mouth hung open, exposing sharp little teeth, as she took in the fine lady's pink skin and jeweled gloves.

"Oh…very, very, much, if you please, Madame," she said.

"Good," said the elegant woman. "I will expect you tomorrow." Belette curtsied clumsily as the carriage rattled away.

Next day, Belette put on her nicest dress and her little straw hat and trudged all the way to the manor. She did not remark that the servants averted their eyes as they showed her into the parlor. But she was astonished when the lady of the house invited her to sit and take tea. Even more shocked was she when Madame Ferre herself went straight to the sideboard and poured the drinks. No doubt Belette should have been watching the porcelain cups instead of gaping at the richly painted ancestral portraits over the fireplace. But she had been raised by loving and gentle people, and she was innocent.

From "The Tale of Belette," published on http://www.talestoterrify.com

What I Write

Feminist & fabulist horror and dark fantasy, tales of humanimals, mud monsters, generational curses, religious ecstatics, and specters that haunt the guilty.
My Write-a-thon Goals
Writing Goals

Write 500 words a day.

Fundraising Goals

Hoping people will kick in $5 to support me and this amazing program!

For donations of $40 or more, I will name a character after you or let you name a character (at my discretion–obviously, I will not name a character after a racial, ethnic, or any other kind of slur.)