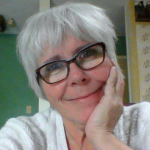 Active 9 months, 2 weeks ago
About Me
| | |
| --- | --- |
| Display Name | Liz Phillips |
What's New
My Progress

CLARION WEST 2020 WRITE-A-THON UPDATE

Week 5 

This week was a brain stretcher! I got to attend Eileen Gunn's Impasse Class Monday through Thursday, and it made a huge difference in how I write.  I have never been able to write fiction to an outline, and I figured out this week that I have a great toolbox of writing strategies that worked well with Eileen's teaching style.  The end products are superior to other work I've finished, so I'm pleased.  The other major breakthrough is that I can produce short stories that are finished by the 2,000th word.

It's not too late to make a donation to Clarion West.  I've posted the link in last week's progress report in case you missed it.  Remember, donations made this week and next are matched so you can have double the impact when you participate.  Don't forget my extra offers: donate $10, get a micro-story on a postcard with my thanks; $20, get your name written into a story; if it sells, I'll contact you and say thanks; $50 will get you a page of a story I wrote at Clarion West with illustrations on it—and a note of thanks from me.  It is my heart's desire to attend Clarion West 2021 or 2022, so help me out!

SHORT FICTION

Tegan Moore's Sprint Session: 1,100 handwritten words

Rashida Smith's Sprint Session: 1,000 handwritten words

Eileen Gunn's IMPASSE Class: 1,000 handwritten words

"The Parrot That Wouldn't Shut Up"  2,000 words

"Cheerleaders Eat Dirt"  1,500 words

"Dead Are the Leaves" 2, 000 words

TOTAL WORD COUNT: 8,600 WORDS

There's one week to go, and I have three prompts to master. Mostly on my own because Tegan, Rashida, and Eileen are not going to be on Zoom to listen to me sweat the small stuff. And then there is the big project I wanted closure on.  I didn't get into the Borrow Some Brains sessions because I waited until a few days before they were to happen. All filled up.  Now I have this framework for my Teen Fantasy novel that I need some solid advice on. And I'm out of Clarion West resources!  Just about in tears over that one. Why? Because it is important that my finished product is perfect. I've thought it perfect in the past, but now I am down to the brass tacks. I really need help.

=============================

MID-WEEK CHALLENGE: Clarion West is fundraising for future courses and programs for speculative fiction writers.  Please scroll down to the section on FUNDRAISER GOALS.  Thanks.

CLARION WRITE-A-THON UPDATE
Week #4

Well, I thought this week was going to kick me to the curb, and I had to work extra hard to meet my goals and deadlines and work those around a doctor visit and harvesting vegetables from the garden when it was cool enough to go outside. I've still not seen the comet, and that is really wearing down my morale. It's such a silly thing, but it's important to me.

Nalo Hopkinson was this week's Clarion guest author. I love how her writing appeals to your senses and oftentimes clashes with what you want to read and feel. There's always a twist to knock you clear out of your comfort zone, like she's hit you, the baseball, right out of the park. And to help me understand where I need to do a better job constructing a story and not just write spontaneously and hope it works out, I added a class to the week. Siobhan Carroll really helped me out. I was able to rewrite one of last week's short stories and end up with a pretty good piece of literature that a couple of readers can comb through before I decide where to send them. All very exciting. Imposing.

The Weekly Word Count:
–Sprint with Rashida Smith, 1,492 words.
–Sprint with Tegan Moorehttps://www.clarionwest.org/members/ljphillips/, 1,498 words
–Writing Practice with Siobhan Carroll, 244 words (plus 6 pages of notes)
–Rewrite Bog Queen Short Story, 4,337 words
–Rewrite Bog Queen Short Story, 4,337 words
–Secret Recipe: Doomsday Bread, 834 words

GRAND TOTAL: 8,407 words

Still need an agent! I'll work until I have it the way the agent and editor want it.

It's not too late to contribute to Clarion West. Here's my link for sponsorship.

Have a great week,
Liz

================================

CLARION WEST 2020

WEEK 3 UPDATE

This has been a dizzy week! I have learned so much, and I spent a lot of time thinking about the lessons learned. Then I plunged in. I discovered the importance of sprints even though I have thought of myself as being a long format writer. The skills needed for sprints help me dump boring narrative in favor of more action, so I'm glad to report that I've reaped and gleaned more than you might think.

Now, I've asked for sponsors for Clarion because I've discovered what a powerful experience it is to write with other writers. We chat online, encourage each other, crack some jokes, attend sprint sessions, share information about genres and techniques.  It's a community I've come to value, and I will be very sad when July 31 rolls around and I have to go the rest of the year without my new friends and acquaintances. Have you ever participated in something that gives you something to be excited about? Well, here's your chance to help me help Clarion West build on their platform and delivery.  Your donation—even ten bucks—goes to this non-profit organization so they can provide resources and workshops for speculative fiction authors. This year, it's the write-a-thon or me.  Next year or the year after, I want to be one of the fortunate to attend the in-person summer workshop in Seattle. It's on my bucket list, y'all.   

I'd like to thank my sponsor(s) who have donated to support my quest to improve my writing and opportunities to be published. Who knows? You might be a donor supporting a future Hugo candidate or a potential Locus or Nebula Award nominee. Think it over.

 And now, the Week #3 Numbers!

 SHORT FICTION:

"Bog Queen Confidential" (assignment #1 from Tina Connolly and Caroline M. Yoachim), 5,769 words. I had to write a story using three words on their list.  I got to choose the words, so I spent more than an hour thinking about what each word meant and what its link to literature might be. I also had to look up information on the Axolotl just in case I wanted to use that as one of my words. Nope. I figured most of the writers in the cohort were doing that, and so I dug deep. Grave deep. I have to clean this up because there is a mini-plot woven through, and compared to the creepy part of the story, the real-life thread is dull as dirt.

"Mothballs!" (assignment #2 from Connolly and Yoachim), 2,546 words. I had to write a story about what super-heroes fear most.  No doubt in my mind what they fear, so I had some fun. The ending might be too abrupt, but seeing how I am oftentimes way too wordy, I'm going to need some readers to give me feedback.

"Mothballs" (assignment #2 from Connolly and Yoachim) 879 words. For some reason I wrote an essay about what if feels like to be mothballed by the folks who used to count on you. It makes me think about something I learned: Not everything is about you. This one might go to the circular file in the near future.

"I Hate Broccoli And You Hate Brains" (assignment #3 from Connolly and Yoachim), 2,113 words. This story is my favorite so far. I think it's actually close to sending to some magazine markets. It's has good pacing, humor, and a purposeful plotline. I'm very excited about this twisted assignment!

 

LONG FICTION (novel):

I have finally finished the edits on my first novel, renamed BETWEEN HERE AND MAGIC (11,100 words this week). Heavy edits. I got rid of stuff, added the action shots I was afraid to write, and cringed when I realized the word count was higher than before.  I'm concerned that my word count is at the top of the limit for upper middle grades/young adult fantasy. It's my first book, and an agent will look at the word count and go "Oh, no!"

 

TOTAL WORD COUNT WEEK 3 (Rounded): 22,000 Words

Next Week's Goal? Well, I don't know what the new prompt is yet, so let's estimate a short fiction word count of 5,000 words (even if it includes editing the Bog Queen or Mothballs!). Long fiction could be trickier; I could start cleaning up my second novel or do more work on the first. Lots of crazy forgotten history in THE KEYS OF TIME. My dream is to receive a message this week from an agent offering to represent me. I want to write books and create a website for reader rabbit trails so students read more, explore history more, and think more about their place in the future of the world. Lastly, I need to work on a cover for a friend's fanzine. It's been years since I've done a cover for a book or an apa.

Y'all have a great week, okay?

======================================================

TWO – June 28-July 4

Accountability Time!

It's been a productive week in two respects.  Word count has been good in both the story writing and novel revisions, so Clarion West is really helping me transition from teaching to writing as a career path.

SHORT FICTION:

"Wall of Dreams" 1163 words where Eileen Gunn gave us the initial prompt, but I also worked on some things in Rashida Smith's session that gave me a good idea; that one idea gave me what I needed to turn my "Gravity" prompt into something I enjoyed reading and editing a few days after the first draft.

"Those Headwaters of Time" 2,702 words where Eileen Gunn challenged us to twist something around to startle the reader.  I was doing well, and thought I was good to go with a strong outline; however, spending time with Tegan Moore in her flash fiction session set things on fire.  What I thought was the beginning of the story was actually the middle. I wrote a good beginning, read the first part I wrote and went through to the finish.  I especially like this story because it had some time travel–my favorite thing to add to fantasy stories.

LONG FICTION (My Novel)

I edited pages nearly every day, and with all the help I've received at Clarion West, I got very brave and did something that was suggested last month. Get rid of stuff and do rewrites. I did. I even changed the title of the book. Today, I went over all the parts I rewrote and made notes of the changes so I can "plot check" as I go through the last 80 pages in Week 3.  So, here are the totals:

Edited 240 pages, 52,000 words

Rewrote Chapter 16 (16 pages), 3,700 words, which are included in the 52K

The GRAND TOTAL word count is: 90,000 words

My Week 3 Goal is to finish editing Book 1, write the three stories Tina Connolly and Caroline Yoachim assigned yesterday.  Estimation of  20,000 words minimum.  This is low compared to Week 2, but I have some training related to my old teaching job. Still, if I get more than that, and it's well written, that's a lot of gravy on the mashed potatoes. I need an agent, please. Till next time, learn a new word each day and send a message telling me about your words and why you like them. ljphillips@liz.phillips.literacy@gmail.com

=======================================================

WEEK ONE – June 21-27

CLARION WEST ACCOUNTABILITY TIME!

New writing totals 6,118 words.
Edits of existing work total 22,000 words.

That's a grand total of 28,118 words. Not bad for a week when I was doing some final teacher PD and dealing with some vertigo. Oh, I know this is the life, y'all. The writer life.

SYNOPSIS OF NEW SHORT WORK:
"Wilding of a Moon Base"  (948-word story triggered by Tegan Moore writing exercise. This is about scientists visiting an abandoned base to see what plants and animals survived.)

"In My Mind I"   (925-word memoir triggered by a Tegan Moore writing exercise and Andy Duncan's Week 1 Writing Prompt. This is about how I survived a series of MRI tests for long lengths of time.)

"A Cursed Friday the Thirteenth"   (1,131-word memoir/story stemming from Andy Duncan's Week 1 Writing Prompt. Superstition and Freak Accidents collide in this story. Not just once, but twice.)

"Booger Man of Dismal Holler"  (2,544-word memoir triggered by Andy Duncan's prompt and finding something from my childhood after not seeing it for 20 years.)

"September Equinox"   (571-word memoir with a story ending stemming from Andy Duncan's Week 1 Writing Prompt. This is about my encounter with an alien drone when I was nineteen.)

SYNOPSIS OF LONG WORK:
Brutal and positive editing of my first novel, WHEN FOXFIRE LIGHTS. Heavy edits and rewrites of 84 pages (22,000 words). And I'm happy about letting go of things I thought I needed to keep. Why? Because Andy Duncan, Brandon Sanderson, Tegan Moore, and writers in my cohort challenged me. I need an agent and a publisher who want a high middle grades series written by a literacy specialist who loves speculative fiction, fantasy, time travel, and history.  I even know what educational materials schools need to get kids reading individually, in small groups, or in whole-class setttings. PLEASE!
What I Write
Writing Sample

     The wind shifted, suddenly turned the night air as chilly as March. Radella straightened, listened to the rustle of leaves warning her to blend in. She faded into the bark of an oak tree near the dental office and waited. The ghosts of Rex Partington and James Hilton exited the back of the courthouse and stopped in the middle of Plumb Alley to observe the fiberglass statue of a wolf wearing a pink evening gown and a feather boa shuffle from the patio of a café to a garden with a high brick wall where it would remain unobserved through the night.         

     The ghosts exchanged a knowing look, noticed the time according to the position of the moon, and moved quickly toward their eternal resting places—once they met up with Elliot Roosevelt at The Tavern. The three of them felt like spooking impressionable tourists as they ran down the brick sidewalk past a funeral home screaming for help. It was the most fun they could have, seeing how they were all three dead. Nothing exciting ever happened in their sleepy little town.

     When the coast was clear, Radella emerged from the safety of the tree and whispered to the faeries who had shared secrets with her while the ghosts paused in the alley at Court Street. News that the Whispers were sandblasting their images on windows all over town disturbed her, and she realized it was time. Time to take up residence in Uncle Sammy's attic just in case The Dark came looking for the only hope Magic had left—the Chosen One.

***

           The wall behind the bookcase glowed luminescent green, and something was tossed from the other side. Something from a Caregiver. Mother Burroughs reached for it, but MJ picked up the rosewood Celtic cross that lay on the table and stuck it to her shirt pocket for safekeeping.

     Then she took a deep breath. The faerie was beginning to scare her. It seemed that apart from being beautiful and speaking in puzzles, the silvery slip of a girl was also some sort of Oracle who could predict the future and see the past. Did her abilities make it possible for her to predict just when the evil Whispers would come to the house? Come after MJ? One look at her dad told her the faerie could. MJ gulped and stepped away from the wall. She didn't want to be the choosey one or whatever it was the faerie said she was. She just wanted to be plain old, ordinary MJ Murphy. Nothing wrong with that!

     And while she realized that, in fact, she was extraordinary, the mummified heads on pikes in the yard lifted their eyelids and turned to stare at the vapor that was four houses away. The Carolina Parakeet stopped singing, and the Appalachian cougar flicked his tail as he paused mid-step. Then they all faded into the shadows of the house. Something was up. And it had risen from the bowels of the Earth.

What I Write

For the past twenty years, my writing has been focused on education. I've written qualitative research papers for publication, standardized test material, and lessons with all the ancillary materials necessary to promote growth of early adolescent literacy skills. It has been a rewarding career, and now that I have retired from teaching English and World Geography, my imagination is unplugged.

 

I write middle grades fantasy-time travel novels and short stories. This genre has always been my preferred vehicle of escape—especially if it incorporates odd bits of history or biographical information not taught in schools. When I write, I incorporate what I know about teaching kids; this trait can drive an adult crazy, but storytelling to this group of readers is underserved. My goal is to create a strong novel series that independent readers and classroom educators enjoy. For better or worse, I am committed to bridging middle grades readers to the world of adult fantasy and science fiction.

Publications

Education field publications (not speculative fiction). Most recent is a chapter on Codeswitching Central Appalachian Dialect Patterns and Formal English in THE HANDBOOK OF THE CHANGING WORLD LANGUAGE MAP, edited by  Stanley D. Brunn and Rowland Kehrein; ebook release Dec 2018 and print release Jan 2020.
My Write-a-thon Goals
Writing Goals

I have waited 20 years for the opportunity to be a full-time writer. I want to write a strong fantasy-time travel series for middle grades readers and find the agent who believes in me.

My goals, whether you sponsor me or not, are the same:

Write every day. Be accountable for posting word count, victories, and frustrations.
Clean up the three novels I have "finished" in the last couple of years. Sometimes you have to rethink character development, plot, and how the Universe works until the works are solid. Send manuscripts/query samples to agents.
Work on the completion of the fourth book (started in December 2019). This book, when characters need me to take notes, will be my intermission from the previous books. I have to pay attention to what happens in this tome in case it requires revisions in the early stories.
Write/edit two or three short stories if I hit a roadblock with the longer works on my goals list. The reasoning there, of course, is the importance of writing every day. There always has to be something on the rise. It's a lot like sourdough starter. You keep it alive and create using both routine and inventive methods to produce hearty work.

I will use my Facebook page to share wordcount and other progress benchmarks associated with the completion and publication of my work.

Fundraising Goals

Clarion West 2020 has taught me so much about the craft of writing speculative fiction, and I am so fortunate to be a participant this year.  Clarion is not free, and every year they do a fundraiser to help the writing community celebrate established and new writers. Won't you consider donating? Click on my sponsor/donor link.  Thanks.

For anyone who sponsors me, I offer:

$10 donation = flash story on a postcard, along with my thanks.

$20 donation = your name embedded in a story, poem, etc. If the work is published, I will notify you, along with my thanks.

$50 donation = a page of my Clarion West writing with an illustration  created over some of the text, along with my thanks.