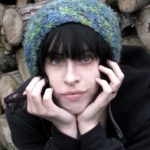 active 5 months, 2 weeks ago
About Me
| | |
| --- | --- |
| Display Name | Lora Gray |
| Twitter Handle | @lorajgray |
| Website | lora-gray.com |
What's New
My Progress

Deadlines have been smashed and I finally have enough breathing room to concentrate on my write-a-thon goal!

I can't wait to wrap my brain around a brand new story.

Thanks so much to everyone who has donated so far-you're amazing!
What I Write
Writing Sample

You find the dead Angel at five a.m. in the slurry of broken bottles and rotting fish on the Lake Erie shore. It almost looks human in the morning light, a ten-year-old, maybe eleven, boyish, face bloated, limp and blue and doughy…

-"The Imitation Sea" (Shimmer, 2018)

What I Write

Weird fiction, fantasy, sci-fi, horror and all things between.

Publications

My writing has been published in Shimmer, The Dark and Pantheon among other places. You can find my full bibliography here.
My Write-a-thon Goals
| | |
| --- | --- |
| Writing Goals | One brand new short story, written, drafted, polished and ready to send out into the world! |
| Fundraising Goals | All donations are appreciated. |