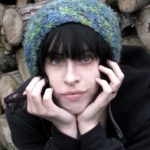 Updates
My Progress

After six weeks of wording, obstacles and copious amounts of coffee, I've hit my 2017 Clarion West Write-a-Thon goal!

I have three shiny new first drafts:

"An Affliction of Trees"  4300 words.  A post apocalyptic fantasy about family and hope and bodies and one very hungry tree.

"Matches, Tower, Sister, Stone"  1700 words.  Magic realism?  Lit fic?  I'm still not quite sure.   But there's a lot of grief in this one.  And pyromania.

"The Tender Shearing Wind"  3200 words.   What happens when you mix eagles, amputation and ghosts?  This, apparently.

All three of these are still very first draft-y and need quite a bit of hammering, but I'm proud of the little beasties.

A huge thank you to everyone who sponsored me and all of my Clarion West friends who helped me sprint and word war my way through this.  I can't wait until next year!
About Me
Writing Sample

The ocean breaks below us, a tableau peeling wide and white against the rocks. I close one eye. Click. I close the other. Click. And tuck the image deep, pushing it down to where Lily and Nod can see it. Where they can smell salt air and wide swaths of foam surging onto a wild coastline, pale arms entwined, embracing. I smooth my palm over the mound of them, uneven and rocky as the shore.
For a moment I imagine those open fists closing around my fingers, three hearts beating in time with the tide, and I lower us into a hollow between the stones.
-excerpt from "Nuclear Daughter," Flash Fiction Online

What I Write

Nuggets of fiction.  Morsels of poetry.   Much weirdness.

Website
Twitter Handle

@lorajgray

Publications

I have had fiction and poetry most recently published in Shimmer, Flash Fiction Online and Strange Horizons.   You can find my full bibliography and a list of my forthcoming work here.
Write-a-thon Goals
Writing Goals

To write the first drafts of three new short stories.

Fundraising Goals

All donations are appreciated-every little bit helps!  I will be giving shout outs on my blog to all of my sponsors.

As an added incentive, everyone who sponsors me for $50+ gets a one of a kind, personalized haiku.  Very sparkly.  Suitable for framing.