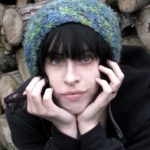 About Me
Writing Sample

The ocean breaks below us, a tableau peeling wide and white against the rocks. I close one eye. Click. I close the other. Click. And tuck the image deep, pushing it down to where Lily and Nod can see it. Where they can smell salt air and wide swaths of foam surging onto a wild coastline, pale arms entwined, embracing. I smooth my palm over the mound of them, uneven and rocky as the shore.
For a moment I imagine those open fists closing around my fingers, three hearts beating in time with the tide, and I lower us into a hollow between the stones.
-excerpt from "Nuclear Daughter," Flash Fiction Online

What I Write

Nuggets of fiction.  Morsels of poetry.   Much weirdness.

Website
Twitter Handle

@lorajgray

Publications

I have had fiction and poetry most recently published in Shimmer, Flash Fiction Online and Strange Horizons.   You can find my full bibliography and a list of my forthcoming work here.
Write-a-thon Goals
Writing Goals

To write the first drafts of three new short stories.

Fundraising Goals

All donations are appreciated-every little bit helps!  I will be giving shout outs on my blog to all of my sponsors.

As an added incentive, everyone who sponsors me for $50+ gets a one of a kind, personalized haiku.  Very sparkly.  Suitable for framing.