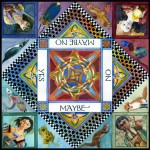 active 7 months, 2 weeks ago
Change Display Name
| | |
| --- | --- |
| Display Name | Margaret Organ-Kean |
Updates
My Progress

July 9, 2018
No work this week – helping ailing parents instead.

July 2, 2018
Still painting. Finished 2 commissions (1 large, 1 small). Need to ship. Still need to work on website.

I should note that the Useful Cards I worked on last summer sold well this year and two of the originals sold last month at the Magic Grand Prix in Las Vegas. Yeah! The amounts I get for commissions are larger, too!
About Me
| | |
| --- | --- |
| Writing Sample | Er, not actually a writer. More of an illustrator. Samples available to view at my website, newer work on my instagram site. |
| What I Write | I paint whimsical watercolors. In the past I've illustrated books, magazines, and games including The Great Dalmuti, and some work for Magic: the Gathering, including Lion's Eye Diamond (no, I don't have any left). |
| Website | |
| Twitter Handle | organ_kean |
| Publications | Illustrations for Magic: the Gathering, the illustrations for The Great Dalmuti, book covers, magazine illustrations, etc. For the complete list, please check my website. |
Write-a-thon Goals
Writing Goals

Fix my website (no, don't go look – not yet).
Finish 4 paintings for Useful Cards and have them printed.
Finish 3 commissions.