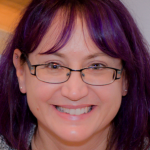 Active 1 day, 22 hours ago
About Me
| | |
| --- | --- |
| Display Name | Stephanie Morris |
| Twitter Handle | @marneechua |
What's New
| | |
| --- | --- |
| My Progress | #wereinthistogether |
What I Write
Writing Sample

Creating the capacity to be — and stay — accessible.

If buildings hold memories, what must the narratives of thousands of unique speculative fiction stories do to a place? Stories we drafted, critiqued, cried over, and submitted at the very edge of late night deadlines—do the shades of old stories and secrets haunt the walls of old Clarion West dorm rooms? Do you wonder who has been missing from these narratives?

The question of who will be whispering those secrets and sharing their stories has been restricted to those who can navigate a house with stairs. Not only students but even some instructors are blocked from bedrooms and classrooms on our current premises. The workshop — and the stories created within — will never be truly inclusive unless we can accommodate all qualifying students who wish to attend. That's where you come in.

One of the ways in which you can support us is to spread the word, helping us fill all of our classes and promote our alumni as their stories are published. Another way that you can support Clarion West is to become a monthly donor and help provide sustained and unrestricted donations year-round. When you become a monthly donor, you become a reliable source of monthly funding for our programs and workshops throughout the year. This is a powerful way to support our current and future endeavors. To make an automatic donation each month to Clarion West, simply check the "Make This Recurring (Monthly)" box on the PayPal donation form: https://www.clarionwest.org/donate/

In 2021, as we move back into accessible facilities, we hope you will help us to create new narratives for the workshop. We will be looking to our community to provide guidance and support as well as to help draft new opportunities for our writers and their readers. In 2019, Clarion West received a significant bequest from the estate of Vonda N. McIntyre. With this bequest, we intend to build the capacity over the next three years to move into an accessible facility and to stay in accessible facilities. The bequest alone will not provide the organization with the financial sustainability to make this move.

It will help us build in staff time, create new programs, and weather the initial costs of moving into accessible facilities. It will help us to build a strong fundraising program that will ensure we can do more for the writers we aim to support. In 2020, we will hire our first fundraising coordinator to help us manage these goals.

The Clarion West Summer Workshop has not always been located in the same house or facility. The Workshop has been held in dorms and classrooms at Seattle University and in three sorority houses. The food was not always as amazing as it is now (thank you, Joe!). Each new building that we occupy will hold the memories of stories and tears and laughter for years to come. We want to make sure each Clarion West campus, short term or long, is accessible to all writers and instructors. Someday, maybe the facility will be our own. We hope you'll join us on the journey to creating lasting memories wherever we go.

What I Write

Grants and appeals! As we increase our programs, we need to increase our staff time and resources, I hope to discover and successfully appeal to new foundations this year.

Publications

Various nonprofit newsletters and appeals.
My Write-a-thon Goals
Writing Goals

I plan to work on grants this summer. Creating the time and space to do that is really important, especially in a small house filled with five humans and a cat.

Fundraising Goals

I encourage everyone to check back to the special offers page regularly: https://www.clarionwest.org/writeathon/special-opportunities/.

Our writers are amazing and offer the best deals every year! I pledge to donate $100 toward at least one of these special offers and I hope that you can find one to match your budget and interests too!