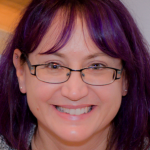 active 3 hours, 49 minutes ago
Updates
My Progress

The introduction on today's letters:

I am writing today to ask that you demand for a plan for the immediate reunification of families, humane and ethical treatment of immigrants and asylum seekers, and call for action to properly document and take care of all children in United States custody.

About Me
| | |
| --- | --- |
| Writing Sample | Sample to come… |
| What I Write | I occasionally write terrible poetry, but for this years' Write-a-thon, I am going to be writing my representatives to call for action against the new immigration policies. And the proper documentation and safety of all children under our care. |
| Twitter Handle | @marneechua |
| Publications | None to date. Only poorly maintained blog posts. |
Write-a-thon Goals
Writing Goals

I started with different goals, but after much consideration I think the best use of my writing time this summer will be writing to my local, state, and federal representatives that it should never be United States policy to separate children from their parents.

Last week I had the privilege of visiting Ellis Island and found the names of my grandparents listed as immigrants who had been processed there seeking citizenship. They were successfully processed as a family, without separation. They were poor and uneducated, but were still allowed into this country. They spoke a different language and were still allowed into this country. The visit brought home the critical need to speak out and do more about what is going on today. I will aim for writing to 1-3 representatives every day. And possibly encouraging some of the representatives who are personally visiting the detention centers and seeking immediate reunification of families and answers to how all under our care are being treated.

Fundraising Goals

My hope is that everyone who needs writing encouragement finds it here! I will ask for support from 10 friends and family to encourage me and keep me going through the end of the Write-a-thon, and hopefully, through the end of this terrible policy and the reunification of all of the families who seek asylum here in the United States.