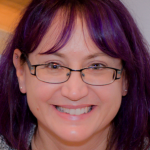 active 1 month, 1 week ago
About Me
| | |
| --- | --- |
| Display Name | Marnee Chua |
| Twitter Handle | @marneechua |
What's New
| | |
| --- | --- |
| My Progress | I love the Write-a-thon because it forces me to get back into writing. I've missed it. I enjoy writing my terrible poetry, which will only be seen by you if you support me. Reader beware. |
What I Write
Writing Sample

No, really, I will only torture those that sponsor me. And you should, because it's the Write-a-thon, our biggest fundraiser!

What I Write

I write terrible poetry! Don't worry, it will never go public.

Publications

I've once been cited as part of the survey team for the Coral Reef Fish Assessment in the 'Coral Triangle' of Southeastern Asia. There. I am famous.

Otherwise, I have several poorly maintained blogs. I really wouldn't go looking for them. One is about Winogradsky Columns. Which are best kept in labs with microscopes and people that can't smell very well.
My Write-a-thon Goals
Writing Goals

6 terrible poems! One per week. It can be done.

Fundraising Goals

My hope is that everyone who needs writing encouragement finds it here!

I will ask for support from 10 friends and family to encourage me and keep me going through the end of the Write-a-thon.