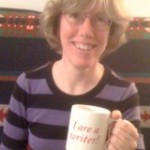 active 9 months, 4 weeks ago
About Me
Writing Sample

I'm pleased to say I have a new story out! It was published by Sick Lit Magazine this May. Here are the first two paragraphs.

I could have killed myself, of course. I could have flung the child from the top of the tower, and flung myself after him. Then all our troubles would have ended. They told me I could live so long as the child lived, but what did I care for the child's life? What did I care for my own? I could have killed myself, but I did not.

Why not? I have often asked myself, over the years, and I've never found an answer. Was I so afraid to die? And, if I was, how did they know I was such a coward? And why would they trust that child to me, whom they called a murderess? I've never found an answer to that, either.

https://sicklitmagazine.com/2017/05/05/sorrow-by-mary-johnson/

What I Write

I'm basically a person who loves stories! As such, I'm a librarian in my day job. Mornings and evenings, I work on middle grade and young adult fiction, as well as poetry and essays. I focus on family relationships and on fantasy and character driven SF. You can see some of my writing on my livejournal. It's at http://mary-j-59.livejournal.com; I have a link from my author web page, as well. Oh – I do also write fanfic from time to time, mostly centering on Severus Snape.

Website
Twitter Handle

maryj59

Publications

A short story excerpted from my young adult novel, "HONOR: A SWORD AGAINST THE GODS", was published in the 2009 issue of "Mythic Circle". The title is "The Five Blows". I also had a poem, "White Tailed Deer", accepted by the Westchester Review. They printed it in their 2013 issue. This spring, "Sorrow: A  Retelling" was published in Sick Lit Magazine; you can read it at the link above.
Write-a-thon Goals
| | |
| --- | --- |
| Writing Goals | I again plan to write every day during the write-a-thon. I'm writing a short story set in the world of my novel, and I hope to finish and edit it during these weeks. I'll also be writing at least two blog posts, researching for a novel and a possible nonfiction book, and starting to edit my fourth novel, which I actually did complete–that was one of my goals last year! |
| Fundraising Goals | I want to contribute up to $50 by sponsoring other writers. |