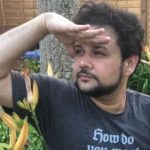 Active 8 months, 3 weeks ago
About Me
| | |
| --- | --- |
| Display Name | Mehran Baluch |
| Twitter Handle | @ikender |
What's New
| | |
| --- | --- |
| My Progress | ETA: Week 5 update. It's going great! I have submitted four stories, yay! (one of them was half-complete, and one of them was a ridiculously long 7700 words!!) They were 1) Near Future/Apocalyptic/Horror, 2) Urban Fantasy, 3) Horror/Ghost Story/ Sci Fi Far Future, 4) Conspiracy Theory/Time Travel/Psychological Horror? ish? and I very pleased with all of them aaaaaand they all need a redraft, lol 😉 ps. send more chocolate. Midway update: I have completed two short stories (although I may still tweak them further, they are done). I have a few other half-baked stories. I am very much enjoying sharing my stories with my fantastic critique group Lookfar, and reading the amazing stories they are producing. I need more caffeine. Also, send chocolate. So far, so not too shabby. |
What I Write
| | |
| --- | --- |
| What I Write | Mehran Baluch lives in west London with half a cat and some old ghosts, with planes and parakeets passing overhead. When he is not writing, he likes to watch copious tv and films, and play games either alone or with friends – computer games, boardgames, roleplaying games (mainly D&D!). When he grows up he wants to be a real boy, and a published writer. He writes mainly short stories so far, all sorts of things from fantasy, sci fi, horror, speculative fiction, etc etc but is building up to novels, hopefully. My first fandoms were Star Wars and The Muppet Show and this explains a lot 🙂 |
| Publications | I have never tried to submit anything before. |
My Write-a-thon Goals
Writing Goals

I plan to use this Write-A-Thon to spur me on to finish projects, rather than my usual idea-generating-but-then-give-up-on-the-story-and-get-distracted-by-the-next-shiny-thing. So, to that end, I plan to write and finish six short stories.

Fundraising Goals

Not necessary, but if you would like to support the great work that Clarion does for writers and the arts, I encourage you to donate what you can.

Anyone who donates will be written into one of my stories, probably as a background character/extra.