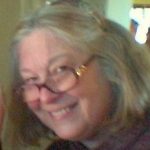 Active 9 months, 3 weeks ago
About Me
| | |
| --- | --- |
| Display Name | Marilyn Holt (M.J. Holt) |
| Twitter Handle | mjholt |
| Website | |
What's New
My Progress

My progress is a bit of a boast: I've exceeded all my w-a-t goals.

If you are interested in reading some of my work, contact me, and if it is yet to be published, I'll send a reader's copy. Thank you.

We are starting the third week of six of the Clarion West Write-a-Thon.

The most exciting thing last week is that an anthology with one of my stories premiered. Low Down Dirty Vote Vol 2. It is available in paperback and digital on Amazon and other on-line book sellers.  My story, No Statute of Limitations, set in 1982, is a crime story from the view point of the feminist perpetrator. (Someone once asked me what "feminist" meant, and to me it means sticking up for my own kind.) I wrote two stories over the past two weeks than have been submitted. Others are out. I am struggling with decided between more accurate science which or arm waving. I think the story will be a bit of  both. I am polishing a crime novel, and contemplating my quest for an agent, since the world seems to again halted due to Covid-19. I found a story that I'd forgotten, and now I'm letting it gel for a few days to see if it is really done. I am a fairly fast writer, and slow reviser. I have a post-apocalyptic story full of magic, horses, and farming, that exceeded it's novella target, and now looks like two books or one long one as I get ready to work on the first revision. So, thanks for reading this far. Love and peace to you.
What I Write
Writing Sample

Excerpt from "Rules for Everyday Life." The full story is archived at https://www.short-story.me/stories/mystery-stories/525-rules-of-everday-life

Monica gave the Manager Help call.
'Means nothing, I'm wearing some black,' she thought. 'Means nothing.'
Belly Button pushed the dolly close for her to scan the barcodes and tossed a handful of candy on the counter.
Monica worked slowly but twelve candies stretched her bounds. Nobody answered her call.
Rule: always be polite.
"Your card, please."
Belly Button pushed a credit card at her.  Scuffed in the middle down to the white, the name read Patric then a white space.
Rule: repeat the customer's name.
"Patric ley," she said.
She waited for him to respond. He was looking at a van backing towards the doors.
Rule: swipe the card.
Monica looked at the fisheye mirror. Haystack hair in the camera section.  Skanky guys out of sight.
Rule: always have multiple people on the floor.
No sign of Manager Wally or Customer Service Rep. Chet. She pushed the panic button.
Rule: look at the signature.
The little signature strip was mostly rubbed off, only a loopy "P" and "ley" no guy ever wrote, remained.
The card reader screen showed "Patricia Dooley" and credit card code.  She hadn't thought about Pat Dooley in weeks.  Buys music and games.  Always quotes her own rules.  Kick ass woman.
Wally and Chet both didn't answer.  Rule: manager at the register within a minute.

What I Write

I write what I like to read: thrillers, SF, mysteries, fairy tales, horror, mainstream, and poetry.

Publications

I have been published in "Alternative Theologies," "Short-Story.me," "Gutter Eloquence," "Big Beautiful Woman," "Timeless Love" (India), "Room of One's Own,"and by Macmillan, Osborne-McGraw Hill, Business Week online, Puget Sound Business Journal, and many others. I have left business and non-fiction writing to concentrate on novels, novellas, and short stories.  I am a member of SFWA and MWA.
My Write-a-thon Goals
Writing Goals

I write every day, so my goal is to write my usual 1,000 to 2,000 words a day, or edit 4,000 words. I submit stories sort of irregularly, but I have knuckle down and make sure everything is out, out, out.

I have become fascinated with horror and ghost stories, and they will join my crime fiction and fantasy.

Fundraising Goals

I encourage you to sent Clarion West at least $25. If you can afford more, please send more. Feel free to send less. Every dollar helps. This is a wonderful program.

Donors who ask, will receive a "reader's copy" of a story that is making the rounds.