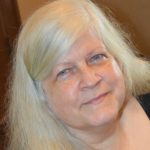 Active 10 months, 1 week ago
About Me
| | |
| --- | --- |
| Display Name | Neile Graham |
| Twitter Handle | Neile_says |
| Website | |
What I Write
Writing Sample

Fuck, I'm cold. Icy spindrift (or rain, or both) rolls down my face. I let go of the side rope to wipe it off, so of course the boat lurches and here I am: butt down in the bilge where the wave-slosh has been collecting ankle-deep. Ugh. I drag myself back up onto the seat. This is a royal storm of joy. My jeans are soaked.

The team calls this boat-thing a Zodiac, which seems to me too celestial for an outsized, outboard-equipped kiddy pool. Now we've turned, and it's slamming down against the wave-swells. Again and again. I can't decide if I'm excited or about to puke. I keep one hand tight on the rope while I squeeze water out of my jeans. My frozen leg beneath barely registers the touch. I'm sorry now that I didn't accept Aunt Tamar's help when I couldn't afford the rain pants that matched my rain jacket. But I didn't want to take guilt-presents from my beloved Aunt Tamar because I don't want to think about her daughter, the infamous traitor and coward, Nayiri, so I'm back to stressing over will-I won't-I puke. Despite the vaunted beauty of the Pacific Northwest, the only scenery I have is wave after wave or the lurching row of waterproof backs in front of me. Those backs all have matching rain paints.

What I Write

I write mainstream and speculative poetry and speculative romance novels. I have a passionate interest in how mythic patterns play out in people's lives (especially ballads–they're all betrayal and cruelty and tragic love, just like your life, right?) so that tends to be a big factor in the stories I tell.

Publications

I have four books and a CD of poetry and over 150 poems in various venues. Even a little fiction out there. See http://neilegraham.com/poemsetc.html for a complete publication list.
My Write-a-thon Goals
| | |
| --- | --- |
| Writing Goals | I will write the first draft of a poem a week, which I will share in a weekly report with my sponsors and supporters. As a stretch goal I hope to add at least 1,000 words a week to my novel-in-progress, The Silver Bones. Doesn't sound like much, but it's not easy to do while helping run the workshop! |
| Fundraising Goals | I hope to surpass both the $ amount and the number of donors who supported me last year. |