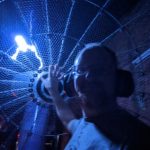 Active 10 months, 1 week ago
About Me
| | |
| --- | --- |
| Display Name | Michael Manzer |
| Twitter Handle | @nevtelenuriembr |
What I Write
What I Write

I write science fiction and fantasy with the occasional smattering of dark fantasy. I often enjoy mixing the genres together in various ways. I primarily write short fiction.

Publications

"The Perfect is the Enemy of the Good" – Liquid Imagination (November 2019)

"Huge" – Trump: Utopia or Dystopia
My Write-a-thon Goals
Writing Goals

It feels like scheduling and normalcy have gone right out the window in 2020, but I'm hoping to reach a goal of writing 500 words a day. Also, I'm great about starting stories, but have trouble finishing them, so I'd also like to finish at least one piece over the course of the Write-a-thon.

Fundraising Goals

I hope to raise as much as I reasonably can for Clarion.

To that end, if sponsored I will:

$(Any) – Tweet out thanks for your generosity!

$10 – I will send a postcard to your snail mail address (or any other address you desire) with original microfiction on it. I'm happy to discuss topics or theme or setting if you want something specific. (Be advised, though – it'll be short enough to fit on a postcard and still be readable!)

$25 – I will send you a personal copy of every story I finish during the write-a-thon. You will also get the reward for the $10 tier.