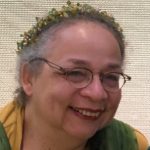 Active 10 months, 1 week ago
About Me
| | |
| --- | --- |
| Display Name | Nisi Shawl |
| Twitter Handle | @NisiShawl |
| Website | nisishawl.com |
What I Write
Writing Sample

Magic was real.  Grown-ups and big kids said there was no such thing, but Winna knew they were wrong.  They just said that because they had given up.  "You can't give up," she muttered to herself.  She picked up her book from the patchwork quilt she had tucked around her legs so she could sit alone on the cool, flower-smelling porch.

She left her glasses off, so she had to put the book way up close to her face, which was supposed to be bad for you.  But maybe some of the story would rub off on her.  It was called The Thyme Garden, by her favorite author right now, Edward Eager.  He wrote about magic happening to regular, ordinary kids, just like her.  Or almost just like her; they were white.  They always managed to find an enchanted something: a well, or a book, or a coin.  Winna was tall for her age (ten), and she was constantly being told to stand up straight and act like she was proud of her height.  She tried to, but it was hard when she was always looking on the ground for a magic object.  A ring, maybe, or a scroll of papyrus inscribed with strange, runic symbols.
–from Speculation

What I Write

There's a bunch of stuff I write.  As far as fiction goes, it's mainly my short stories that get published, and my story collection Filter House co-won the James Tiptree, Jr. Award in 2009.  But then my debut novel, Everfair, was nominated for a Nebula last year, and folks still read it and talk about it.  Also, there's my nonfiction.  Writing the Other, which I co-authored with my CW classmate Cynthia Ward, is influential, as is my series for Tor.com on Black SF, fantasy, horror, and related genres.

Publications

Some major ones are linked and listed above: Writing the Other, my story collection Filter House, my debut novel Everfair.  I also edited and co-edited five anthologies: Bloodchildren: Stories by the Octavia E. Butler Scholars (now out of print); WisCon Chronicles 5: Writing and Racial Identity; Strange Matings: Science Fiction, Feminism, African American Voices, and Octavia E. Butler; Stories for Chip: A Tribute to Samuel R. Delany; and New Suns: Original Speculative Fiction by People of Color.  My most recent story collection is Talk Like a Man from PM Press's Outspoken Author series.  A not-even-complete list of short stories and essays available can be found within its pages and also at my website: nisishawl.com.
My Write-a-thon Goals
| | |
| --- | --- |
| Writing Goals | I'm currently chugging along with a first (careful) draft of Kinning, a sequel to Everfair.  Here's my writing goal: two chapters. |
| Fundraising Goals | I want to get at least sixteen donors to give Clarion West at least $11 each. |