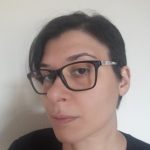 Active 8 months, 1 week ago
About Me
| | |
| --- | --- |
| Display Name | Natalia Theodoridou |
| Twitter Handle | @natalia_theodor |
| Website | |
What I Write
| | |
| --- | --- |
| What I Write | I write strange short stories that usually blend genres, non-Western settings, and queer characters. I also work on text-based games and interactive fiction. |
| Publications | Recent publications include "The Last Eagle" in Clarkesworld, "Poems Written While" in Uncanny and "What it Sounds Like When You Fall" in Nightmare. For a full list of publications, go here. |
My Write-a-thon Goals
Writing Goals

This year my goals are:

– Complete at least 2 chapters of Sekrit Project.

– Finish the novella that's been 1/3 done forever.

– Expand a flash into a short story (or novelette!!)

– Edit and submit an already drafted short story and an already drafted flash piece.