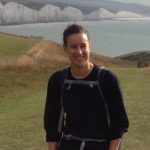 active 1 year, 1 month ago
About Me
| | |
| --- | --- |
| Display Name | Rachel Broderick |
What's New
| | |
| --- | --- |
| My Progress | This week I'm finishing up my detailed outline: fixing logistical plot kinks, fleshing out certain aspects of the worldbuilding, and ensuring that every twist and turn in the story feels true to my characters. |
What I Write
Writing Sample

From the work in progress:

I arrived at Lower Basin Recovery & Resettlement Center by air. The sun was rising over the desert, and there were no doors on the Black Hawk, so I had a good view of the camp on our descent. It was impossibly vast—bigger than Ithaca, and far more densely packed. Each block of white shipping containers was separated by wide, unpaved roads, which led to massive warehouses where we'd been told aid and rations were distributed. When I concentrated, I could see the long lines that trailed from the entrances. I also saw white-chalk rectangles where football uprights and soccer nets had been set up. It was an uncomfortable reminder of how many children were living there.

We touched down on an air strip behind one of the warehouses and were quickly taxied out onto the baked earth. Other planes—two private jets and a gunmetal gray C-12 with the black Coywolf logo emblazoned on its belly—were already landing behind us.

"Help, I'm blind!" Reggie cried. I looked over and saw his fogged-up Ray Bans.

"Lucky you," I said.

What I Write

The novel I'm hoping to finish this summer is near-future speculative.
My Write-a-thon Goals
| | |
| --- | --- |
| Writing Goals | 8,000 words a week, starting the week of July 1st. |
| Fundraising Goals | Whatever I can help to drum up for the workshop! |