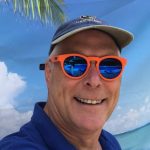 About Me
| | |
| --- | --- |
| Display Name | R. R. (Bob) Angell |
| Twitter Handle | rrangell |
| Website | rrangell.com |
What's New
My Progress

We join our hero already in progress:

Finished 15,000 novella that is a core in the linked collection that I'm working on.

Rewrote three stories.

Halfway through new novella.  This was a tough one finding my way in.
What I Write
Writing Sample

Every classroom at The River Prep School for Boys smelled faintly of dogs. Most of our families had dogs. Some of us even had cats. I learned that some parents should have stuck with pets.

Thoreau Hall was a white cube with black rimmed windows on the edge of the main campus with four classrooms per floor, one in each corner. All the buildings had been built on a slope, from the flat playing fields in front to street level behind, so their lower floors were walkouts in the back. From the front entrance, five steps down or up got you to your class. If you went all the way up to the third floor you'd be trespassing because that's where Mr. Robinson lived with his pregnant wife, a tall Swedish woman named Anja. She reminded me of an Afghan Hound because she had long, relish-blond hair and a thin face. I would have her next semester for typing class, but this semester in the period before lunch I had Mr. Robinson for eighth grade English.

At the end of class and by the time the bell stopped ringing, we were out of our seats and crowding toward the door. Mr. Robinson shouted above the stampede, "Finish Rose Garden for Thursday, Gentlemen." It wasn't that we didn't like the subject, but the sun had come out with a vengeance half-way through class and everyone wanted to be outside after all the days of rain.

I jostled up the metal stairs with the guys from our level and the other three classes, colliding with the boys coming down from four classes above, and pushing, jostling, and shoving our way through to the double doors into sunlight. The concrete walkway was still wet, and the grass sparkled with droplets. A bunch of upper school guys turned right toward the gym and their Phys Ed class. Those in my grade headed toward the cafeteria. Some upper school guys abandoned the walk to run around the crowd on the perpetually trampled grass, others walked the path along the fence between the athletic fields to the student parking lot. Most of us loosened our ties and draped sports coats over a shoulder. I fell in behind Charlie, the tallest guy in our class, and a clump of his friends bent on pushing each other off the sidewalk. They all knew each other from last year, but since I'd moved down from Massachusetts in August, I'd only been at River Prep for a month. No one had figured out where I fit in, and neither had I.

My friends back in Concord had really spun up some scary myths. I did not want to move south, especially to attend an all-boys school with a dress code. I'd have to cut my hair. Did they even have bellbottom pants in Maryland? We'd imagined them all as backward hicks, and I came close to asking my parents if I could stay with Doug, though I hadn't asked him and wouldn't for fear of being turned down.

"Why are we reading about some crazy girl in a looney bin?" Charlie Pepper asked the crowd, watching a crow fly over the Dining Hall. "What's wrong with adventure stories and a guy protagonist? What about Sherlock Holmes?"

Around us, the usual suck-up replies only made me feel more isolated. I didn't want to say that I liked the book enough to have finished reading it in two days. I liked the character, a girl in a mental institution who retreated into an imaginary world. Her make-believe one was a good idea, I thought, a coping mechanism that worked even if it meant that she hurt herself. There was nothing real that she could trust, until she learned trust from the psychiatrist, the first person that actually got her. I felt a certain kinship with her, which I would never confess.

"It's English Class," said a normally quiet boy in a thread-bare jacket, last name of Gayle. "They give us things we would never pick up to expand our interests." He always sat in the back corner, and I'd never seen him walking with others to lunch before. "I actually liked it," Gayle said.

That last bit turned all our heads. I studied his lightly freckled face, thin nose, longish brown hair just over dress code length, and full lips like a girl's. He had long, thin fingers that wrapped around the front strap of his book bag to hold it on his shoulder, in an almost perfect mirror of me.

"Give it a rest, Mister Gayle," McPhail said. "Nobody likes a suck up. Aren't you supposed to be somewhere?"

"Actually —," Gayle started to say, but I interrupted him on instinct.

"I liked it, too," I said. "I wouldn't have picked it, but it's a good book. And they made that song out of it."

Pepper turned to me. "What song?"

"I Never Promised You A Rose Garden," I said. "It's on the radio all the time."

McPhail made his arm into a swan and swished his hips singing, "I beg your pardon. I never promised you a—"

"I like that song," Pepper said, shutting McPhail down.

What I Write

Queer fiction, even if you can't tell.

Publications

Bob R. R. Angell (he/him) is a queer writer whose short fiction has been published in Asimov's Science Fiction, Fantastic Stories of the Imagination, The Baltimore Review among others, and anthologies such as: Stress City: A Big Book of Fiction by 51 DC Guys; Best Date Ever: True Stories That Celebrate Gay Relationships; and Compelling Science Fiction: The First Collection. His LGBTQ YA VR AI science fiction romantic thriller, Best Game Ever: A Virtuella Novel, published in May 2019.
More at rrangell.com
My Write-a-thon Goals
Writing Goals

I'm working on finishing a linked collection of short stories (36 total at this counting) that I started almost three decades ago based on my life growing up queer in the 1960s and 1970s when social awareness was beginning to expand and climate awareness was such a concern that the movement created a corporate coverup and fog of legislative ambiguity that neutralized almost all climate activism for the next fifty years.

Why now? Well, aside from some highly emotional stuff these stories drag up, I finally figured out that it all has to be in first person of the main character.

Goals to complete this monster:

Three new stories

Rewrite of eight existing stories.

Let's see how far I get by August.

Thanks for your support.

Bob

Fundraising Goals

I'm donating here and will sponsor a few others along the way. Clarion West has been incredibly important to me and my writing, and for the fantastic and supporting community of magical folks and wonderful visionaries that make it up. Yep. Still true.