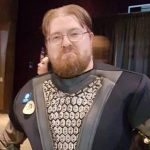 active 1 year, 1 month ago
About Me
| | |
| --- | --- |
| Display Name | Saluk |
| Twitter Handle | Saluk64007 |
What I Write
Writing Sample

"Uh, I'm here with Tommy. I've mentioned him before, many times. He's my boyfriend, right?"

I was sick. The alcohol shot up my stomach walls and I knew it wouldn't be long. The bathroom. Where was the bathroom? I stumbled through the hallway, dodging at least 3 couples playing tonsil hockey, and nearly tripped over a wiry boy with headphones who was having his own party. Fortunately, the bathroom was unoccupied and I opened the door to be confronted with a shock in the bathroom mirror.

I dropped the alcohol that I somehow was still carrying.

The glass fell through space like a feather, lilting back and forth, creating a dance of liquid within, shortly before impact. Splitting in pieces, the container's jagged particles shot out randomly, sending the contents spilling over the linoleum floor. As in the mirror, I could also now see my reflection in the red pool that quickly formed at my feet. I gazed horrified at what the image revealed.

It was a face. My face? No. Seemingly the same, in nearly every detail. The same wide eyes. The scar just above my left cheekbone, only noticeable if you were looking for it. The hair that wouldn't quite curl and yet couldn't be arsed to remain straight.

It should have been my face alright. But for every detail being the same, it didn't belong to me. It was a mask that was made to look like mine. I had never seen that face before in my life.

What I Write

I write in the science-fiction and fantasy genres, hoping to use the lenses of other worlds to explore what exists in our own or where we may go next.
My Write-a-thon Goals
Writing Goals

I will write every day. I'm working on a novel, but instead of writing linearly or even going in with a plan, I will be creating short excerpts from different parts of the story to explore tone and come up with ideas that will eventually be worked into the novel. The writing sample is a good example of the kind of excerpt I mean.

The actual length and amount of excerpts will be flexible. Fundraising goals will help set my pace. More funds will increase the number and length of excerpts that I will produce. Excerpts will be linked in the writing progress section. If the minimum word count increases, I'll be adding to the excerpts that are to short before adding new ones.

Fundraising Goals

0$ – no minimum count
1-10$ – 6 excerpts
10-20$ – minimum word count for each excerpt is 300 words
20$-30$ – 12 excerpts
30$-50$ – minimum word count for excerpts is 500 words
50$-100$ – 20 excerpts
>100$ – minimum word count for excerpts is 750 words

Please dm me on twitter if you have donated or intend to donate so I can update my goals quickly rather than wait for the weekly donor reports!