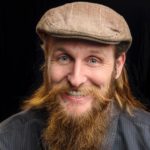 active 1 year, 4 months ago
Change Display Name
| | |
| --- | --- |
| Display Name | Stewart C Baker |
About Me
Writing Sample

(From "Images Across a Shattered Sea")

The air on the cliffs above the Shattered Sea was hot as a furnace and twice as dry. Still, Driss couldn't suppress a shiver at the way the shimmering message-globe moved through the sky, dozens of meters above the churning, black waves of the sea.

He had seen the globes before, of course, but only after they'd been captured and put on display in the village's little museum. It didn't quite seem real, the way the little ball bobbed and danced on the breeze, drifting ever so slowly towards Fatima where she stood atop a heap of boulders at the edge of the cliff.

Read the full story at KasmaSF or play an interactive version at Sub-Q Magazine.

What I Write

Stewart C Baker is an academic librarian, haikuist, and speculative fiction writer. His fiction has appeared in Writers of the Future, Galaxy's Edge, Nature, and Flash Fiction Online, among other places. Stewart was born in England, spent time in South Carolina, Japan, and California, and now lives in Oregon with his family­­—although if anyone asks, he'll usually say he's from the Internet.

Website
Twitter Handle

stewartcbaker

Publications

Recent publications:

The Monsters Your Mother Still Asks About" (fantasy, humor) in Great Jones Street, April 2017.

"The Thing About Heisenball" (sci-fi, flash) in Daily Science Fiction, April 2017

"How I Became Coruscating Queen of All the Realms, Pierced the Obsidian Night, Destroyed a Legendary Sword, and Saved My Heart's True Love," co-written with Matt Dovey, (fantasy, humor) in No Shit There I Was,  February 2017, and in audio form on Podcastle, April 2017.

Full bibliography on my website at http://www.infomancy.net/published-fiction/
Write-a-thon Goals
Writing Goals

Ingu is a travelling warrior-woman-for-hire who just happens to be cursed with immortality—among other things. Fired from her position as a caravan guard for drinking rice wine on the job, Ingu tries to pick the pocket of a girl she takes for a wealthy merchant's daughter. When that girl turns out to be an imperial princess, on the run from her mother, with a letter she claims will avert a bloody war of secession, Ingu has to choose between helping her escape or keeping her own identity secret.

Thus goes the pitch for my novel in progress, The Road that Spans the Sea.

Alas, I am terrible at novelling, and am stalled at about 33,000 words.  I will be using the 2017 write-a-thon to:

1. Finish a proper outline of my in-progress novel

2. Reach 50,000 words on the draft

Fundraising Goals

At the end of the Write-a-thon, I'll send anyone who donated $5 or more a standalone short story about Ingu, set a few centuries before the events of the novel.