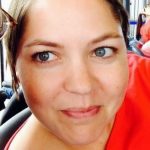 About Me
| | |
| --- | --- |
| Display Name | S.H. Aeschliman |
| Twitter Handle | @writelearndream |
| Website | |
What's New
My Progress

Week 1: Got most of a draft of a flash fiction story written, which feels like success after not having written anything new for months.

Week 2: I had an accident that limited the use of my hands for a few days, and a close family member landed in the ICU, so no new writing done.

Week 3: Still recovering from last week's events. I will devote more time each day to writing July 13th-Aug. 2nd in an effort to meet my goal of drafting 6 new stories during the Write-A-Thon.
What I Write
| | |
| --- | --- |
| Writing Sample | |
| What I Write | I write prose and poetry (and prose poetry) about being a misfit and creatures that give some people the heebie jeebies. My short stories tend to fall under the speculative fiction umbrella – a dash of fabulism, a dash of humor, and a pinch of horror. |
My Write-a-thon Goals
| | |
| --- | --- |
| Writing Goals | Draft 1 new short story per week. |