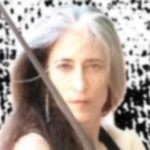 active 1 year, 1 month ago
About Me
| | |
| --- | --- |
| Display Name | Sonia Lyris |
| Twitter Handle | |
| Website | |
What I Write
| | |
| --- | --- |
| Writing Sample | |
| What I Write | My shorter works have appearned in various publications, including Asimov's SF magazine, Wizards of the Coast anthologies, and Uncle John's Bathroom Reader. I am the author of THE SEER, an epic fantasy novel from Baen Books, and co-creator of the related gambling and divination game, Rochi, coming from King of the Castle and Campaign Coins this fall, designed by James Ernest and illustrated by Mark Ferrari. I also wrote AND PEACE SHALL SLEEP, a Magic the Gathering novel. |
| Publications | |
My Write-a-thon Goals
Writing Goals

A number of readers of THE SEER have asked me when book 2 is going to be done.

Book 2 is done.

My writing goal for the write-a-thon is to rewrite the beginning of book 2 so that it better fits into an indie series format.

Fundraising Goals

I'm grateful for your kind sponsorship. Every penny goes to Clarion West as a tax-deductible charitable contribution.

As a thank you, here's what I'm offering:

$10: In addition to my sincere thanks, I'll answer any question you might have about my writing in email.

Want more? The above plus:

$50: The first scene of the current incarnation of the sequel to THE SEER. It's first draft quality, but you might well be the first reader to see it. Even my early readers haven't seen this yet.

$100: Two scenes. Maybe three.

$200: The entire first chapter, in all its first-draft glory. You might need to wait until the write-a-thon is over but you'll be among the first to see it, anywhere.