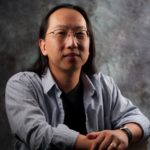 active 9 months, 4 weeks ago
Change Display Name
| | |
| --- | --- |
| Display Name | Curtis C. Chen |
Updates
My Progress

23 Jul 2017: I'm currently at 40% of my fundraising goal and 55% of my wordcount goal.

Sponsor me for just ONE AMERICAN DOLLAR to get weekly email updates!
Write-a-thon Goals
Writing Goals

My current small project is a rewrite of a short story (my Clarion West week two story, actually).

My current big project is writing a new, standalone novel (not in the Kangaroo-verse; sorry, kids).

Fundraising Goals

Let's see if we can do $450. And what do you get for your sponsorship?

$1 or more: weekly email updates on my writing progress.
$10 or more: a custom LOLcat picture (featuring Jasper or Tye).
$50 or more: an original haiku about a Star Trek show of your choice (one episode from any series, or any movie including Galaxy Quest), published on Twitter (will @ you in tweet if desired).
$100 or more: a not-so-mysterious package (US/Canada shipping only) with a set of signed Kangaroo-verse travel postcards (Mars and Luna), an audio CD of my choice, and an assortment of stickers.