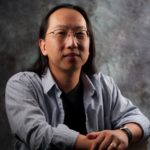 Active 6 months, 3 weeks ago
About Me
| | |
| --- | --- |
| Display Name | Curtis C. Chen |
| Twitter Handle | |
| Website | |
What I Write
Writing Sample

CATS DON'T CARE ABOUT UNIVERSAL BASIC INCOME
By Curtis C. Chen

I am a cat. I don't care about most human issues. My primary concerns are eating and sleeping. And anything that disrupts either of those crucial activities is a problem.

My human's name is Alivia. Not "Olivia." Alivia, with an "A." It sounds pretty much the same when you say it, but she seems to delight in making a big deal out of anyone mishearing or misspelling it.

Humans are weird.

Our latest problems started after Alivia's most recent birthday. She turned twenty-five, which I guess is some kind of important thing for humans, though she didn't have nearly as big a party as she did when she turned thirteen. I didn't get to attend, of course, but she did come home smelling of an amazing myriad of other humans, cooked foods, and manufactured substances. Hey, I like sampling new odors, I'm not ashamed of it. It's not a problem. I can stop anytime I want. Leave me alone.

Anyway. It was the Sunday after her birthday, which had fallen on a Friday, and she had spent all weekend carousing and celebrating with her friends and classmates. Some of them even came over and played with me. That was cool.

What was not cool was her bestie, Hannah, banging on the door at nine in the morning. Alivia had taken the day off from work, and I was barely three hours into my morning nap at that point. I put forth a strong argument for Alivia staying in bed by not moving from my resting place on the pillow next to her head, but for some reason she felt compelled to roll over the other way and get out of bed to answer the door.

"Minbin Monday tomorrow!" Hannah shouted as the door swung open.

#

Read the complete story at Curious Fictions…

What I Write

Mostly science fiction and fantasy. MOSTLY.

Publications

Novels:

KANGAROO TOO (Publishers Weekly starred review)
WAYPOINT KANGAROO (Locus Awards Finalist)

#

Selected Short Fiction:

"Go, Space Racer!" (Playboy Magazine, 2018)
"It's Machine Code" (audio: Serial Box Publishing, 2020)
"The Stories We Tell Ourselves" (audio: The Overcast, 2020)

#

Complete bibliography at curtiscchen.com/stories
My Write-a-thon Goals
Writing Goals

For 2020:
– Finish revising fantasy novel based on beta reader feedback and send manuscript to my agent
– Write at least one new short story every month for posting on Curious Fictions
– Start revision of third KANGAROO novel (currently in first draft)

Fundraising Goals

For 2020:
Let's see if we can do at least $256. And what do you get for your sponsorship?

$1 or more: candid weekly email updates on my writing progress.
$50: email critique of your query letter (up to 300 words).
$100: email critique of your short story (up to 5,000 words).
$200: email critique of the first 40 pages of your novel (up to 10,000 words).

NOTE: all your money will go to Clarion West as a tax-deductible charitable contribution.