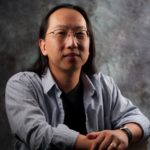 active 9 months, 4 weeks ago
About Me
| | |
| --- | --- |
| Display Name | Curtis C. Chen |
| Twitter Handle | |
| Website | |
What's New
| | |
| --- | --- |
| My Progress | IF YOU HAD DONATED AT LEAST $1 BY LAST FRIDAY YOU'D HAVE ALREADY GOTTEN AN EMAIL UPDATE FROM ME |
My Write-a-thon Goals
Writing Goals

– Revise the new standalone novel (code name "ID3") based on beta reader feedback and send updated manuscript to my agent
– Finish all first drafts for Serial Box project (in progress, not yet announced)
– Record another audio narration for PodCastle, apparently

Fundraising Goals

Let's see if we can do $512. And what do you get for your sponsorship?

$1: weekly email updates on my writing progress
$10: I will critique your query letter (up to 300 words).
$50: I will critique your short story (up to 5,000 words).
$200: I will critique the first 40 pages of your novel (up to 10,000 words).

NOTE: all your money will go to Clarion West as a tax-deductible charitable contribution. I'm doing this to help them.