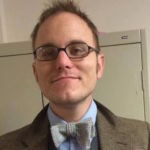 Active 3 years, 8 months ago
About Me
| | |
| --- | --- |
| Display Name | Spencer German Ellsworth |
| Twitter Handle | @spencimus |
| Website | |
What's New
| | |
| --- | --- |
| My Progress | We're coming on the 2017 Write-a-thon and I'm… still doing edits for the last of the space opera short novels. Hoping to be back in the happy free land of drafting soon. |
What I Write
Writing Sample

Igrid had two questions.

Two, never answered.

She'd only been asking them her whole life.

Igrid awoke on her tenth birthday, shuffled out of bed at dawn, shivered in the cold air, yanked on her leggings and her over-tunic, pumped water at the well, and milked the sheep and knew that today she would get answers or go mad trying.

Oh, she'd tried before. Every time she tried to get an answer out of her parents, they sent her to something horrible like digging out old fenceposts or cleaning entrails for sausage. A whole farm full of chores, and she came into the dirtiest ones, all for little questions.

Every time she tried to get an answer out of her older brother, he begged off and said he had more farm chores, or more likely, needed yet another sword training session with their papei. Or worse, he just did that dumb smile and said, "You're smarter than anyone knows, aut."

Every time she tried to get an answer out of the townspeople, she was reminded that the townspeople were part of the problem. They just looked at her funny, and walked off like she hadn't said a word.

Today, as she carried water and checked the wagon hitch and made a circuit of the near pasture checking for signs of foxes and bone walkers, she knew today she'd have her answer.

Two questions.

First: why did the townspeople treat her brother like he was the Hero come again?

What I Write

Science fiction and fantasy! My forthcoming novel, released on August 22nd, is space opera, but my current project is a fantasy, about a young indigenous girl forced into a battle of bone sorcerers and mammoths and pirates and some sort of Chosen One business that usually happens to someone else.

Publications

Three short novels about the rise and fall of a galactic demagogue, ten thousand years from now, coming from Tor.com starting August 22nd, 2017. Preorder on Amazon and Barnes & Noble.

Short Fiction:

On another world, all-too-familiar conflicts arise between human Muslims and Christians, this time over the conversion of an alien race. Read it online at Tor.com.

The Child Support of Cromdor The Condemned

An old barbarian's past comes back to haunt him, in the form of a child he's never met, in a sendup of classic Conan stories. Read it online on Lightspeed Magazine. Have it read to you at Podcastle

A very short story about storytelling, and wrestling bears. Read it online in Spirit's Tincture Issue #1. Have it read to you on Podcastle as part of their Flash Fiction Extravaganza.

An turncoat assassin and the mother and child she protects run from her former allies. Read it online at Beneath Ceaseless Skies. Have it read to you on the BCS podcast. Aaaaand read it in print in this very handsome Swords & Steam Anthology from Flame Tree Press

An-all-too-clever Ifrit must talk his way out of a jam of his own making. Read it in print in the Human Tales anthology from Prime Books.  Have it read to you on FarFetchedFables.

Blade and Branch And Stone

Settlers and fantasy races clash over the fate of sentient trees on a fantasy frontier, in a postcolonial twist on Tolkien. Read it online at Heroic Fantasy Quarterly. Have it read to you on Podcastle.

A brother and sister seek ways to stay together. This is difficult, as one of them is a ghost. Read in print at the gorgeous Ghost In The Cogs Anthology.

Five Tales of the Aqueduct

Five weird linked micro-stories written in tribute to the California Aqueduct. Read it in print in the July 2014 issue of The Magazine of Fantasy & Science Fiction,  or in the (very handsome) upcoming anthology Strange California, out in 2017.

Mount Rainier Considers Its Mental Health.

Seattle's most gorgeous landmark has an existential crisis. Read it online at Brain Harvest. Have it read to you on the Toasted Cake podcast.
My Write-a-thon Goals
Writing Goals

This year (2017) I am finishing edits on my third space opera novel, which means I have to come within a hair's breadth of destroying the universe!

I am also trying to knock out the first 10,000 words of a fantasy novel, just to keep things interesting.

Fundraising Goals

Whatever you want to throw CW's way, I would appreciate. I would love to raise over a hundred bucks at least.