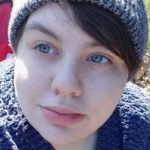 Active 9 months, 1 week ago
About Me
| | |
| --- | --- |
| Display Name | Stacy Roth |
| Twitter Handle | sapphodroth |
What's New
| | |
| --- | --- |
| My Progress | Sketchy at first but I've logged steady progress daily since the beginning of July. Nothing prolific, but continuous. |
What I Write
Writing Sample

Whatever form I existed in before the cajoling beckoning then pushing that enticed me then stole me into the realm of carbon living had so little to do with my current mode of existence, there is not continuity between the two. Only the memories of one, such as they can be interpreted by the chemicals of the flesh, are carried by the other, and nothing but that. The experiences of my life before have no bearing in the reality I stepped into.

They who'd piped me away from the dimension of my first iteration, leading me like a …. They greeted me upon my birth. There I tumbled, splashed into a pool of water that reflected only the black sky and the crescent moon, made unintelligible by my ripples. As I understand it the normal process of birth in mammals — which my body tends to mimic — is quite uncomfortable if not painful. Violent, even, in the upright ones. Which I was, and stood in that pool to my full height, because my birth was neither painful nor violent to experience, and I felt surprisingly composed.

Ah ah ah! I felt, when my chemical flesh awakened. Awakened to thought and experience, coming to life part by part, rapidly but distinctly each time. I felt the moment of no self become self, of no ego become ego, of no speech become speech, of no skin to skin — skin of a million sensations — from filling no space, and no time, to filling both space and time simultaneously.

What I Write

I write fantasy of a eclectic variety of sub-genres, all just lousy with queers.
My Write-a-thon Goals
| | |
| --- | --- |
| Writing Goals | To sit down and write each day and bonus if I reach my daily word count goal. |