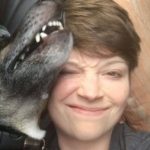 About Me
| | |
| --- | --- |
| Display Name | Tegan Moore |
| Website | |
What's New
My Progress

Story 1: out for consideration

Story 2: out for consideration

Story 3: out for consideration

Story 4: shelved! for good reasons! I'M WRITING A NOVELLA INSTEAD
What I Write
What I Write

I write heavily character-driven stories that take place in whatever speculative context–fantasy, weird, sci-fi, horror–best fits the story. I love exploring the idea of what makes a person a person, and I often choose to do this by selecting characters that aren't quite people–monsters, gods, beasts, programs, viruses, dreams, ghosts.

I have a nasty habit of killing fictional monkeys.

Publications

"Sandwich" Devilfish Review, October 2015

"How High Your Gods Can Count" Strange Horizons, May 2016

"Epitome" Asimov's, September 2016

Assorted minor nonfiction on the Stranger Slog, a few places on the Web
My Write-a-thon Goals
Writing Goals

The fun parts of writing:

Making shit up. Writing that feels like poetry while you're doing it. When you're in the flow of a good story and it's pouring out of you. Taking naps to solve plot problems. Coming up with amazing ideas. Banging out a draft in two days. Getting feedback. Doing a redraft that feels like you're finally moving in the right direction. Talking to brilliant writer friends about what your stories mean. Feeling like a genius.

The not-fun parts of writing:

Taking the above tangled knot of information and actually finishing a story.

I have four stories right now–three short stories and a novella–that are ready to finish. I don't want to finish them because it's hard exhausting work. I'm going to finish them anyway.

By August I will have all four of these stories ready for submission, if not already out with editors.

Fundraising Goals

$200! I've done it before I can do it again.