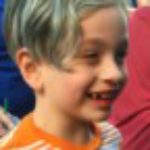 active 1 year, 3 months ago
Updates
My Progress

July 25: I finished my book! All 15 chapters! I had to finish early because my mom is going away tomorrow for world con, but I had a lot of fun making my book. I am probably going to add more chapters because I have more monsters to describe. Thank you to the people who sponsored me!

July 13: I wrote 206 words today on Chapters Eleven and Twelve! It was about the boy's fight with the Solar Pillar.

July 10: I wrote for over 45 minutes and made 400 words. I am up to Chapter Ten!!!

July 3: I did a ten minute writing sprint today and got up to Chapter Seven!
About Me
| | |
| --- | --- |
| What I Write | I am 8 years old and I am going to be in the third grade. I like to write fanfic for Minecraft and Terraria. |
Write-a-thon Goals
| | |
| --- | --- |
| Writing Goals | My writing goal is to write 15 chapters of my book, A Tale of Terraria. |
| Fundraising Goals | I would like to raise $3 for each chapter that I write, for a total of $45. |