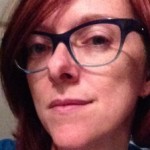 Active 5 years, 8 months ago
About Me
| | |
| --- | --- |
| Display Name | Tracie Welser |
| Twitter Handle | @traciewelser |
| Website | |
What I Write
Writing Sample

I met Suze and Milo on a late summer day, which sounds pleasant in a corny sort of way, but it wasn't. I was starving and thin, dragging myself across the desert. The skin on my nose was reddened and peeling, scorched ten times over by the same harsh sun that bleached my hair white. I'd left my pack somewhere along the highway as I wandered, delirious. I knew the twilight would bring relief from the heat but it would also bring the chill night wind and the dark, and noises.
I slumped and stared at the sun setting over the San Gabriels, and as the sun winked out I think I wished for death for the first time.
And that's the exact moment when Suze rode into view. Milo bounded alongside Suze's motorbike, effortless and magnificent. He bent over me where I lay on the cracked earth and dropped the bloodied carcass of a jackrabbit on my chest.
"Like Aslan," I said, stupid with thirst and hunger. "Here to save me."
"Not in the least," he said, and he licked his mouth round and round with a huge tongue, barbed and pink, the way cats do.

What I Write

I attended Clarion West in 2010, and it changed my life, no joke.

I tend to write fiction that reviewers find "depressing," although the stories I write and the characters that people them feel like segments of myself, snipped from strands of my own experiences and woven into new landscapes. The desert, an industrial dystopia, a faraway planet covered in ice, a city street not unlike streets I've walked except for their strange inhabitants. I like robots, talking animals and individuals struggling to find their place in the world. My desire in fiction is to give readers a sense of the feeling of a place or a moment, whether that sensation is elation, fear or despair.

I like to think I challenge readers to think about themes like inequity and gender.

Publications

"'The Status Quo Cannot Hold'": A Few Words from Women who Wrote/Are Writing the Goddamn Book on Destroying Science Fiction," in Lightspeed Magazine's Women Destroy Science Fiction, 2014.

"A Doll is Not a Dumpling," March/April 2014 from Interzone (Issue 251).

"A Flag Still Flies Over Sabor City," January/February 2013 from Interzone (Issue 244). Available on Kindle from Amazon.

"Her Bones, Those of the Dead," in Outlaw Bodies, a themed anthology from The Future Fire (November 2012). Available for purchase from Amazon and Lulu.

"A Body Without Fur," May/June 2012 from Interzone. Listed as an "Honorable Mention" in Gardner Dozois' The Year's Best Science Fiction (Thirtieth Annual), 2013. Available on via Kindle (Issue #240) and on Smashwords.

"How Molière Saved Lydia Bruer: A History in Two Fragments" is available for free viewing at Crossed Genres in archived Issue 28 (March 2011), for purchase via Kindle as part of Crossed Genres Quarterly 2 or in print at Amazon.

"Parsimonious Skull" in The Thackery T. Lambshead Cabinet of Curiosities, edited by Jeff and Ann VanderMeer, (2011). Harper Collins.
My Write-a-thon Goals
| | |
| --- | --- |
| Writing Goals | My goal for this write-a-thon is to write at least 500 words per day on the current novel project. |
| Fundraising Goals | Please help fund this amazing workshop with whatever support feels right to you! The first person to sponsor me will receive an autographed copy of Interzone #251, which contains a story by me. |