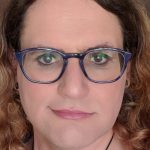 active 7 months, 1 week ago
About Me
| | |
| --- | --- |
| Display Name | Izzy Wasserstein |
| Twitter Handle | @izzyxen |
| Website | izzywasserstein.com |
What I Write
Writing Sample

Eventually you knock, because you want to get out of the reeking wind. Your brother opens the door and looks at you with such shock that you know that in this iteration you've not been around for a long time.

His hug is brittle. "Do you want to see mom?" he asks, but when you say yes he drives you to a cemetery. It was a mistake to come here. It always is.

Your room is waiting for you. You tell your brother you'll see him in the morning, wait until you're pretty sure he's asleep, then Snap out again. There's a simulated multiverse to see, but you promise yourself this is the last time some version of Topeka hauls you back. Still lying to yourself after all these years.

–from "All the Hometowns You Can't Stay Away From" in Fireside Magazine.

What I Write

I'm a proud member of the 2017 class of Clarion West (I love you, Team Eclipse!). I write speculative fiction and poetry. I also teach English at a college in Kansas, share a home with the writer Nora E. Derrington and a variety of furry companions. I like to run long distances very slowly. My pronouns are she/her.

Publications

My published work includes: "The Crafter at the Web's Heart" (Apex, 2019), "Pelicanimimus and the Battle for Mosquito Ridge" (Resist Fascism, 2018), "The Good Mothers' Home for Wayward Girls"  (PseudoPod, 2018), and "Unplaces: an Atlas of Non-Existence" Clarkesworld, 2018). My most recent poetry collection is When Creation Falls (Meadowlark Books, 2018). You can find the full list and links to my work on my website.
My Write-a-thon Goals
Writing Goals

This year, the write-a-thon starts right as I'm having gender affirming surgery. So my goal is to write as much as my recovery allows! I'd love to finish some stories, but getting words down is the real goal.

Fundraising Goals

To raise a lot of money for Clarion West, which changed my life and included me in a wonderful community.

For the write-a-thon I'm offering the following rewards:

Sponsorship at any level: an electronic photo of one of my animal companions, who I promise are very cute.

$10 sponsorship reward: PICK ONE: I will write a ridiculous, over-the-top poem on the subject of your choice (to be delivered electronically after the write-a-thon) OR I'll write something silly on a postcard and mail it to you (to be delivered after the write-a-thon).

$25 sponsorship reward: I'll send you a signed copy of my poetry collection, When Creation Falls.

$50 sponsorship reward: I'll name a character after you in a work of short fiction. I'll send you the story once the final draft is ready to be sent out.

$100 sponsorship reward: I will re-watch, then publicly say something nice about one of Batman v. Superman, Jurassic World, Man of Steel, X-Men 3, or Spider-Man 3 (your choice). This may seem a lot to pay, but it's a sign of how much I love Clarion West that I'd even risk this.

$150 I will subject myself to the film of your choice, and will live-tweet the experience. (Must be a film I can get access to–as much as I'd like to live-tweet the full, lost version of Metropolis, such is not to be.)