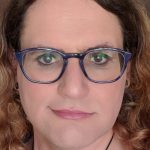 active 10 months, 3 weeks ago
About Me
| | |
| --- | --- |
| Display Name | Izzy Wasserstein |
| Twitter Handle | @wasserst |
| Website | izzywasserstein.com |
What I Write
Writing Sample

One of the Mothers shoves the new girl into the dorm room, the slick threads of the Mother's grasp lingering long enough that several of us shiver. The new girl wears a short dress, shot through with sunset, though we are not sure we remember sunsets properly. The hem of the dress is ragged and mud-caked. It is the most beautiful thing we have ever seen. We hate the new girl.
Get her into uniform, the Mother commands. It makes no sound, but its words echo between our ears. The new girl has been standing with her hands on opposite shoulders, her chin jutting forward. That changes when we surround her. We rip the dress from her shoulders and toss a gray shift over her body. Now she is dressed just as we are.
The Mother squelches out of the room, and the door slams shut behind it.

–excerpt from "The Good Mothers' Home For Wayward Girls," the first draft of which I composed at Clarion West. Published in PseudoPod.

What I Write

I'm a proud member of the 2017 class of Clarion West (I love you, Team Eclipse!). I write speculative fiction and poetry. I also teach English at a college in Kansas, share a home with the writer Nora E. Derrington and a variety of furry companions. I like to run long distances very slowly. My pronouns are she/her.

Publications

My published fiction includes "The Good Mothers' Home for Wayward Girls" (PseudoPod, 2018), "Unplaces: an Atlas of Non-Existence" (Clarkesworld, 2018), "Their Eyes Like Dead Lamps" (Lady Churchill's Rosebud Wristlet, 2018) and "Ports of Perceptions" (Glittership, 2018). Upcoming work includes the short story "All The Hometowns You Can't Stay Away From" (Fireside). My most recent poetry collection is When Creation Falls (Meadowlark Books, 2018)
My Write-a-thon Goals
Writing Goals

I hope to write or revise into publishable shape one story each week. I may combine a couple weeks and work on a novelette.

Fundraising Goals

To raise a lot of money for Clarion West, which changed my life and included me in a wonderful community.

For my first ever write-a-thon I'm offering the following rewards:

Sponsorship at any level: an electronic photo of one of my animal companions, who I promise are very cute.

$10 sponsorship reward: PICK ONE: I will write a ridiculous, over-the-top poem on the subject of your choice (to be delivered electronically after the write-a-thon) OR I'll write something silly on a postcard and mail it to you (to be delivered after the write-a-thon).

$25 sponsorship reward: I'll send you a signed copy of my poetry collection, When Creation Falls.

$50 sponsorship reward: I'll name a character after you in a work of short fiction. I'll send you the story once the final draft is ready to be sent out.

$100 sponsorship reward: I will re-watch, then publicly say something nice about one of Batman v. Superman, Jurassic World, Man of Steel, X-Men 3, or Spider-Man 3 (your choice). This may seem a lot to pay, but it's a sign of how much I love Clarion West that I'd even risk this.