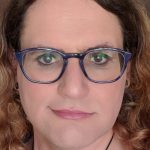 Active 9 months, 1 week ago
About Me
| | |
| --- | --- |
| Display Name | Izzy Wasserstein |
| Twitter Handle | @izzyxen |
| Website | izzywasserstein.com |
What I Write
Writing Sample

Do you remember what you asked me, the night before I left, as we held one another and let the cool night wash over us?

Tell me, you said, why you must do this?

To stop the Fascists, I told you. I was hurting and preferred your anger to your tears, so I added, you will have no trouble replacing me.

It was a cruelty, and defamation besides, for I trust you completely. To admit it would have made leaving harder, so like a coward I chose the easy path over truth. Never again.

If I die tonight, I pray you will forgive me for leaving you, and for the hurt I caused you. No matter my foolish words, know that there is nothing but death that would long keep me from your side.

Now, at last, I know the other half of my answer. If I could go back and rest with my head on your chest, here is what I would say: I fight to be a man worthy of your love.

–From "Pelecanimimus and the Battle for Mosquito Ridge" originally in Resist Fascism, reprinted in We Will Remember Freedom.

What I Write

I write poetry and fiction, and my work explores issues relating to queerness, community, survival in the face of apocalypse, and resisting fascism. I also love to write about competent characters facing massive challenges, and about characters who seek to grow something in the rubble of their lives.

I'm a proud member of the 2017 class of Clarion West (I love you, Team Eclipse!). . My pronouns are she/her.

Publications

I've published a lot of short fiction and poetry. My most recent publications are "For Change is the Moon's Domain, and Tonight She Watches" in Fireside Magazine. (May 2020); "A Dinosaur Without Feathers Is No Dinosaur at All" in Robot Dinosaurs!. (March 2020); "A Hench Helps her Villain, No Matter What" in Escape Pod. (February 2020); "The Grass Bows Down, the Pilgrims Walk Lightly" in Analog. (January 2020); and "Requiem Without Sound" in Escape Pod. (December 2019).

You can find the full list and links to my work on my website.
My Write-a-thon Goals
Writing Goals

It's hard to focus on writing while essential protests continue, a pandemic rages, and so much is at stake. So of course I've chosen this time to start a novel! I've described my novel as "Dirty Dancing as a queer space heist," and my goal for the fundraiser is to get the novel's plot and character arcs sketched out, and then produce at least a chapter a week. This is an ambitious goal, but I'm hoping the accountability of the write-a-thon will help me meet it.

Fundraising Goals

My beloved Class of 2017 are also raising money, and offering cool rewards! Consider supporting Team Eclipse!

To raise a lot of money for Clarion West, which changed my life and included me in a wonderful community.

For the write-a-thon I'm offering the following rewards:

Sponsorship at any level: an electronic photo of one of my animal companions, who I promise are very cute.

$10 sponsorship reward: PICK ONE: I will write a ridiculous, over-the-top poem on the subject of your choice (to be delivered electronically after the write-a-thon) OR I'll write something silly on a postcard and mail it to you (to be delivered after the write-a-thon).

$25 sponsorship reward: I'll send you a signed copy of my poetry collection, When Creation Falls.

$50 sponsorship reward: Join me on Zoom (or the video conferencing app of your choice) for a live-watch of any streaming movie you pick. Or if you prefer I can live-tweet the movie instead.

$100 sponsorship reward: I'll Tuckerize you in my novel.