Novella Bootcamp with Laurie Penny (CLASS FULL)
January 3 through February 21
Sundays from 5:30-7:30pm Pacific time
$375
Some scholarships available, with preference to BIPOC and marginalized students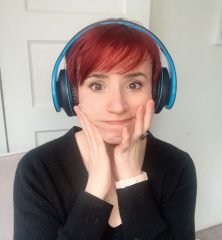 Want to make your New Year's resolutions come to life? We're presenting an eight-week novella workshop with Laurie Penny in early 2021.
Together, class members will structure, outline, trouble-shoot, and most importantly, complete a 17,000-40,000 word novella. Using storytelling techniques from screenwriting, the aim is for each student to come away with a finished first draft. This class is for intermediate and advanced writers. Come prepared to work hard and support each other!
About Laurie
Laurie Penny is an award-winning author, journalist, and screenwriter from London, now living in Los Angeles. As a screenwriter, Laurie has worked on The Haunting of Bly Manor (Netflix), The Nevers (HBO), and Carnival Row (Amazon). They are a graduate of the Clarion West class of 2015.
For More Information or to Apply
Reach out to workshop@clarionwest.org.
Applicants should submit the following by December 10 at 11:59pm Pacific time:
A brief outline (200-500 words) that explains your idea, describes the main characters, and where you see the story going. (This can change, but Laurie would like a sense of what your story is about!)
A short personal statement (500 words or fewer) about your workshop or publishing experience. Workshop experience and publications are not required, but we do want to know more about you!
Scholarship applicants should state in the body of their email that they are applying for a scholarship and include information in their personal statement about their interest and financial need (please maintain a limit of 800 words or fewer). We prioritize seats for BIPOC and other marginalized students, and for first-time scholarship recipients.