Working with Other Works: Inspiration, Homage, Fanfic, and Plagiarism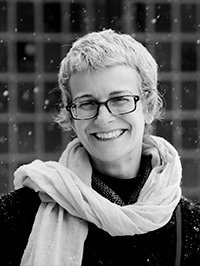 November 19, 2017, 10 a.m. to 4 p.m.
University District, Seattle
Learn how to create unique works that engage directly with beloved characters, worlds, and stories with award-winning author and Clarion West instructor Kij Johnson.
It's been said that all writing is fan fiction: Chaucer did it, Shakespeare did it, Tolstoy did it—and so do writers of everything from noir to high literary fiction. James Gunn says that all science fiction stories are in conversation with earlier works and topics, and it can be argued that every work of heroic fantasy since Tolkien is, well, Tolkien fanfiction. The lines between fanfiction and so-called original work grow more blurred by the year.
In this workshop, you'll learn what makes one work derivative, another a fresh re-envisioning, and a third a rip-off. You'll discuss prose techniques, moving stories across genres, hidden spines, world-building between the lines, and publication approaches.
Kij Johnson is a winner of the Hugo, Nebula, World Fantasy, and Sturgeon Awards, and a highly successful teacher of SF/F writing for the University of Kansas, The Gunn Center for the Study of Science Fiction, Clarion West, Clarion (San Diego), and elsewhere. Her most recent books are the novella The Dream-Quest of Vellitt Boe, which was nominated for the Nebula, Shirley Jackson, and Hugo awards; and The River Bank, a sequel to The Wind in the Willows.