Landing The Gut Punch: Finding Emotional Resonance in Fantastic Fiction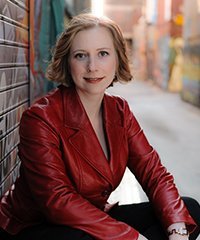 The short story is one of the most provocative and intriguing narrative forms available to writers and readers. It hits like a gut punch; it should astonish, mystify, amaze, wound and console—all in the space of a few pages. This workshop will teach you to create beautiful, compact worlds that echo and magnify the emotional themes of your story. You will study Edgar Allan's Poe's "Unity of Effect" theory, and use the basics of this theory to analyze the structure and pay-off of works by Kelly Link and Robert Shearman. Then you will try out a series of exercises that will help you to experiment with tone, voice and narrative form—and learn the benefits of that experimentation.
Helen Marshall is a Lecturer of Creative Writing and Publishing at Anglia Ruskin University in Cambridge, England. Her first collection of fiction Hair Side, Flesh Side won the Sydney J Bounds Award in 2013, and Gifts for the One Who Comes After, her second collection, won the World Fantasy Award and the Shirley Jackson Award in 2015. She is currently editing The Year's Best Weird Fiction to be released in 2017, and her debut novel Everything That is Born will be published in 2018.