Rewriting and Revisioning
November 20
Cat Rambo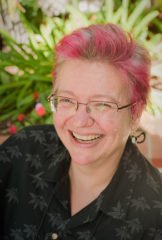 Learning to trust your editing skills makes you more productive when producing early drafts, because you can relax in the knowledge that you can make anything better. Cat's three-step process will help you make a story its best, as well as giving you an easy method for knowing when a story's ready to send out.
Cat Rambo lives, writes, and teaches atop a hill in the Pacific Northwest. Her over 200 fiction publications include stories in Asimov's, Clarkesworld, and The Magazine of Fantasy and Science Fiction. She is an Endeavour, Nebula, and World Fantasy Award nominee. Her 2016 publications include Hearts of Tabat, Neither Here Nor There and the updated edition of Creating an Online Presence for Writers. For more about her, as well as links to her fiction, see http://www.kittywumpus.net.
Fill out the form below to register for this workshop. Clarion West will not share your contact information with any other organization.
This workshop is available to anyone aged 18 or older for a $150 fee.  It begins at 10 a.m. and ends at 4 p.m., and students should plan to arrive by 9:45 a.m.
All One-Day Workshops take place in Seattle's University District, in an accessible building near many bus routes. If you have questions about the accessibility of the workshop location, format, or content, please contact oneday@clarionwest.org.