Voice and Diversity
October 9
Nisi Shawl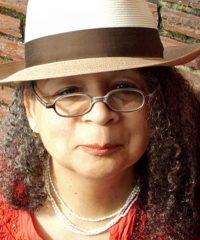 As an author you can use voice to make a diverse cast of characters vividly real. In this workshop, you'll analyze both familiar and unfamiliar speech patterns with lectures, discussion, and selected reading. You will learn firsthand some of the problems inherent in phoneticization and "eye-dialect," and do exercises to practice alternative techniques for representing nonstandard speech in narrative and dialogue.
A founder of the Carl Brandon Society, a nonprofit supporting the representation of minorities in imaginative fiction, Nisi Shawl won the James Tiptree, Jr. Award for her collection Filter House. She is coauthor of Writing the Other: A Practical Approach, and co-editor of Strange Matings: Science Fiction, Feminism, African American Voices, and Octavia E. Butler. She also co-edited Stories for Chip: A Tribute to Samuel R. Delany, and edited WisCon Chronicles 5: Writing and Racial Identity. Shawl's Belgian Congo steampunk novel Everfair comes out from Tor in September 2016.
Fill out the form below to register for this workshop. Clarion West will not share your contact information with any other organization.
This workshop is available to anyone aged 18 or older for a $150 fee.  It begins at 10 a.m. and ends at 4 p.m., and students should plan to arrive by 9:45 a.m.
All One-Day Workshops take place in Seattle's University District, in an accessible building near many bus routes. If you have questions about the accessibility of the workshop location, format, or content, please contact oneday@clarionwest.org.