Nicola Griffith, October 8
---
What Readers Like—And Why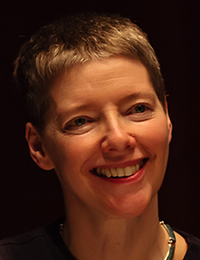 October 8, 2017, 10 a.m. to 4 p.m.
University District, Seattle
Discover the power of the right word and the right sentence in a workshop with acclaimed author Nicola Griffith.
Why do readers respond more strongly to some fiction than others? How does a writer immerse a reader into the protagonist's world and persuade them to feel as the protagonist feels, see what she sees? Using examples, you'll discuss the neuroscience behind what makes a particular word, sentence, or paragraph more likely to evoke empathy in a reader. Then with writing exercises and discussion you'll learn how to analyze fiction—yours and others'—to discover how to make it more powerful. Prepare for this workshop with assigned reading and viewing, and come ready to learn how to make your readers' hearts beat faster.
Nicola Griffith lives in Seattle. She has taught writing at every level, including for Clarion West. Her most recently published novel, Hild, won the Washington State Book Award and she is working on the sequel, Menewood. A new book, So Lucky, will be out in 2018. Meanwhile she drinks just the right amount of beer and takes enormous delight in everything. Learn more at nicolagriffith.com.