Summer Six-Week Workshop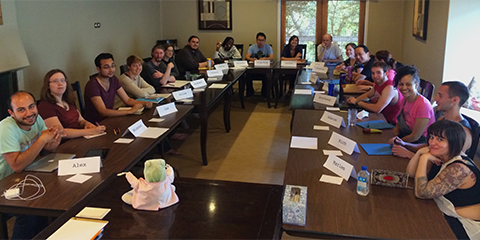 June 18 – July 28, 2017
Applications for the 2017 Summer Workshop will open in December 2016.

Every summer, Clarion West holds an intensive six-week workshop in Seattle's University District, geared to help you prepare for a professional career as a writer of speculative fiction. Each workshop is limited to 18 students, and each week features a different instructor, a highly regarded author or editor offering their unique perspective on the field.
Short fiction is the workshop's focus, with an emphasis on science fiction, fantasy, and horror. Come prepared to write several new stories, to experiment and take artistic risks, and to give and receive constructive criticism.
You'll work closely with instructors in group critiques of newly written stories, discussions about writing techniques or professional concerns, and individual or small group conferences. And you'll be a part of Seattle's vibrant SF community, as the workshop presents informal sessions with acclaimed area authors.
You'll come away with essential tools for improving your writing as well as a set of friendships and professional contacts that can last a lifetime.
Clarion West charges a nonrefundable application fee of $35 (USD), which is payable via PayPal. The fee increases to $60 for applications received after February 10, 2016. Applications close March 1.
Clarion West is dedicated to promoting new voices in speculative fiction and offers a generous amount of scholarship support, made possible by our passionate and dedicated community. All students are encouraged to apply for scholarships.
For more information about applications, the Clarion West experience, and life after Clarion West, please see our FAQ and our article on when and how to apply to the workshop.
Download a PDF flyer with application information here. (If the file does not display correctly in your browser, please save the PDF to your computer and open in Adobe Reader.) You can use this flyer to spread the word about the workshop. Just print out the flyer and post at your local library, college campus, coffee shop, bookstore, or wherever writers congregate.
Application materials
To apply to Clarion West, you will need the following:
Sample of your work, consisting of a total of 20 to 30 pages of manuscript (one or two short stories, or a novel excerpt with a synopsis of up to three pages). Your manuscript should be formatted in 12-point Courier (typewriter) font and double-spaced, with one-inch margins. (See Vonda McIntyre's manuscript preparation guide and William Shunn's story formatting guide for more information.) It should not exceed the page limit, even if it includes a synopsis. Set your margins flush left and do not justify the text. We prefer PDF documents, but also accept DOC and RTF files. Do not upload DOCX or ODF files.
A 700- to 800-word description of your background and your reasons for attending the workshop. This essay will be used to introduce you to the workshop's instructors if you are accepted. Include your contact information through June: phone number, email address, and mailing address.
If you plan on applying for a scholarship, you'll need some personal and financial information on hand to fill out the online form. We need information about your income, your recurring household expenses, your anticipated workshop expenses, and a few other things. We recommend downloading our paper scholarship form and using it as a worksheet.
Please see our FAQ for specific questions about applying to Clarion West. You may also want to join our mailing list, follow us on Twitter, or like us on Facebook.
Costs
The total cost to attend the workshop is $4200; this covers tuition, room, and partial board (light self-serve breakfast daily, and lunch and dinner Monday-Thursday). All students stay in the workshop residence. Wireless Internet access is free.
Scholarships
All students are eligible for scholarships. You can apply for a scholarship when you apply for the workshop on this site, or request a scholarship form via an email, phone call, or letter, or print one out from our website. Scholarships are allocated primarily based on need.
Special needs
Our scholarship funds include some assistance for special needs students.
Accessibility
Clarion West strives to make the workshop residence as accessible as possible, but we do have limitations because of the nature of the space that we rent. If you have questions about the accessibility of the workshop, please contact info@clarionwest.org.
Instructors for 2017

Daryl Gregory writes genre-mixing novels, stories, and comics. He's the author of the award-winning novella We Are All Completely Fine. His novels include Afterparty, Raising Stony Mayhall, The Devil's Alphabet; and the Crawford-Award-winning Pandemonium.

Kij Johnson has won Hugo, Nebula, World Fantasy, and Sturgeon Awards for her enticing yet disturbing novels and stories. She is Associate Director of the Center for the Study of Science Fiction at University of Kansas, where she also teaches creative writing and leads an intensive novel-writing seminar.

John Chu is a microprocessor architect by day, a writer, translator, and podcast narrator by night. His fiction has appeared or is forthcoming at Boston Review, Uncanny, Asimov's Science Fiction, Clarkesworld, and Tor.com. His story "The Water That Falls on You from Nowhere" won the 2014 Hugo Award for Best Short Story.

Connie Willis is an internationally known science fiction author and the winner of an unprecedented total of eleven Hugo Awards and seven Nebula Awards. Willis is the author of Doomsday Book and many other acclaimed novels, but she is probably most famous for her short stories, including "Fire Watch," "Even the Queen," and "The Last of the Winnebagos." Her novel Crosstalk will be published in October 2016.

Daniel José Older is the bestselling author of the Bone Street Rumba urban fantasy series and the novel. He co-edited the Locus and World Fantasy nominated anthology Long Hidden: Speculative Fiction from the Margins of History. Daniel has guest edited at Fireside Fiction, Catapult, Crossed Genres, and Fantasy Magazine, and served as a judge for the Scholastic Art and Writing Awards, the Burt Award for Young Adult Caribbean Literature, and the PEN American Award.

Pat Cadigan is the author of fifteen books, including the two Arthur C. Clarke Award-winning novels Synners and Fools. She has won the Locus and Hugo Awards. Cadigan has been a speaker at universities, literary festivals, and cultural gatherings around the world, including M.I.T., Pop!Tech, Utopiales, Argonauts of the Noosphere, and many more science-fiction conventions than it's possible to list here.