About us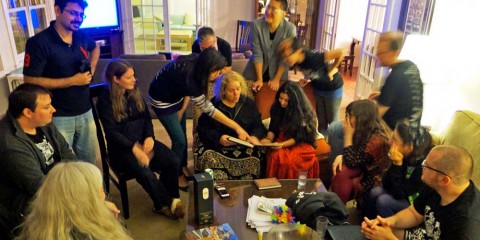 Clarion West Writers Workshop is a nonprofit literary organization based in Seattle, Washington, with a mission to improve speculative fiction by providing high quality education to writers at the start of their careers. As an extension of its primary mission, Clarion West also makes speculative fiction available to the public by presenting readings and other events that bring writers and readers together.
Speculative fiction—science fiction, fantasy, horror, magic realism, and slipstream—gives voice to those who explore societal and technological change, along with deeper considerations of underlying archetypes of human experience. Although there are fine science fiction and fantasy writers of all ethnicities, races, and genders, historically the field has reflected the same prejudices found in the culture around it, leading to proportionately fewer successful writers of color and women writers than white male writers. Within the limitations of the workshop, Clarion West is dedicated to improving those proportions.
Modeled after the original Clarion Workshop held in Clarion, Pennsylvania, which in turn was modeled on the Milford Writers Workshop, Clarion West has been held continuously in Seattle, Washington since 1984, with three earlier sessions held here in 1971, 1972, and 1973. From the beginning, the workshop been run by writers, for writers. The 1971 workshop was initiated by Vonda N. McIntyre, a Nebula and Hugo Award-winning author and a Clarion graduate herself, with the support of the original Clarion workshop's founder, Robin Scott Wilson. In 1984 J.T. Stewart, a Seattle writer who attended the 1973 session, and another local writer, Marilyn J. Holt, reconvened the workshop.
Clarion West incorporated as a nonprofit organization in 1986, with workshop alumni and other interested members of the science fiction community forming its first Board of Directors. With the help of many dedicated volunteers and a core of committed professional staff, Clarion West has produced some of science fiction and fantasy's top writers and editors. Graduates have received every major form of recognition in the field, including the Hugo, Nebula, and World Fantasy Awards.
Clarion West is honored to receive support from a broad and diverse group of organizations.  This support, along with individual donations, enables the organization to fulfill its mission.
4Culture
Amazon.com
Carl Brandon Society
Seattle Office of Arts & Culture
Empire and Great Jones Creative Arts Foundation
Inkshares
National Endowment for the Arts
New York Science Fiction Society / The Lunarians, Inc.
Norwescon
Oregon Science Fiction Conventions, Inc.
Potlatch
SF3 (supporting the Women in Speculative Fiction Fund)
University Book Store
Clarion West receives generous scholarship and instructorship support in honor of the following individuals:
Elliot Alexander
Michael Alexander
Mark Bourne
Octavia E. Butler
Gordon R. Dickson
Leslie Howle
Robert and Dorothy Munson
Susan C. Petrey
Donald A. and Elsie B. Wollheim
Our Staff
Rebecca Lane
Interim Executive Director
Rebecca's life's work is driven by a passion for social justice and powerful change based in logic and equity. As a systems thinker and seasoned executive and development professional, she takes great joy in bringing a culture of philanthropy to every organization she supports. Nonprofit work is hard to do well; the best organizations have both discipline and spirit. In her personal life, she's a textile artist and gardener.
Neile Graham
Workshop Director

Canadian-born, Neile has been in awe of what happens at Clarion West since she attended as a student in 1996 and is delighted that her life since is still full of writing and writers. She has three published collections and a spoken word CD of poetry, as well as numerous projects in the works.
Micaiah "Huw" Evans
Workshop Administrator

A native of the Pacific Northwest, Huw attended Clarion West in 2012. He writes (mostly speculative) fiction and lives in Seattle with his wife, daughter, and far too many books.
Katherine Sparrow
One-Day Workshop Coordinator

Katherine is a writer and social worker living in Seattle with her partner, two kids, and the enigmatic Couch and Chair (guinea pigs). She attended Clarion West in 2005.
Kris Millering
Communications Specialist

Kris Millering is a linguist by training, a tech tinkerer by trade, and a writer and photographer by avocation. She moved to Seattle from Iowa twenty years ago, and now lives between the ocean and the mountains on the Olympic Peninsula. She attended Clarion West in 2009.
Suzanne Tompkins
Office Manager

An independent association manager and meeting planner, Suzanne (aka Suzle) has been involved in SF fandom since the mid-60's. She has co-edited four fanzines and helps to run numerous SF cons, most recently the Seattle Potlatches, as well as the 2011 and 2013 Worldcons.
Kate Schaefer
Database Administrator

Kate's past includes financial analysis for a large but now-defunct bank, database programming, attending Clarion West in 1992, and a great deal of sewing. Her present includes cloud database administration, volunteering for Clarion West, much sewing, and a long reading list.
Erik Owomoyela
Website Manager

A former Nebraskan, Erik first moved west to attend Clarion West in 2010. He now lives in Seattle, finding creative applications for his journalism degree.
Our Board

Karen G. Anderson is a journalist, book reviewer, humor columnist, and web content consultant who lives in Seattle with her partner, Tom Whitmore, and their highly photogenic cats.

Elizabeth Bourne is a writer who attended the Gunn Center for the Study of Science Fiction novel workshop, where she is also a member of the Board of Directors. She is an owner of Tsongas Litigation Consulting, and is a member of that firm's Board of Directors and its Executive Committee.

Felicia R. Gonzalez is a poet, short fiction writer, and development professional who also serves on the board of 4Culture. An alumna of the Hedgebrook Writers Retreat and a recipient of an Artist Trust/Washington State Arts Commission Fellowship, she has been on the Clarion West board since 2011.

Phoebe Harris is an accountant and writer living in Western Michigan with her wife, son, and (sadly) zero cats. She attended Clarion West in 1988 and has served on the Board since 2006.

Ned Hayes (Nick Hallum) is a novelist with three published novels, including The Eagle Tree. He is a longtime technology leader, and has led product teams at Adobe, Microsoft, Xerox PARC, Vulcan Labs and most recently Intel. He holds an MFA from the Rainier Writing Workshop and is a lifelong fan of science-fiction, fantasy and all types of speculative fiction.

Jeffrey Lemkin is a marketer, business writer, book collector, food blogger and Clarion West's Secretary. He has been a speculative fiction fan for more than a half century and currently lives on Camano Island with his wife and cat, both of whom tolerate him.

Zola Mumford is a Reference and Instruction Librarian at North Seattle College. Her professional background includes arts event production, film and TV production, historical research, and preservation work with film and print materials in university and private film and art archives. In 2014 she curated and presented a program of short science fiction films at the Experience Music Project as part of a Black History month program.
T

od McCoy is a Clarion West alumnus whose work has appeared in AntipodeanSF, Qarrtsiluni.com, the.gloaming magazine, and the anthology Bronies: For the Love of Ponies. He runs Hydra House, a small press dedicated to publishing West Coast science fiction and fantasy. He serves as the board's Vice Chair.

Vicki Saunders is a writer, editor, and graphic designer who attended Clarion West in 2009. She serves as the board's Chair and Clarion West's Art Director.

Nisi Shawl is the James Tiptree, Jr. Award-winning author of the story collection Filter House and the novel Everfair.  She attended Clarion West in 1992.

Yang-Yang Wang is an actor and writer who attended Clarion West in 2014. A lover of brevity, he serves as Clarion West's Treasurer.