Home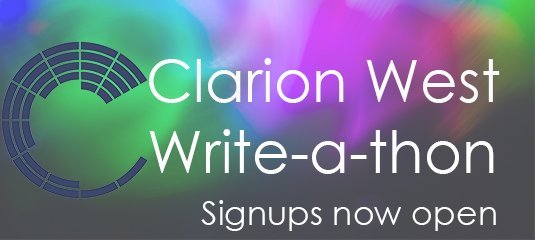 Signups for the Clarion West Write-a-thon are now open! Like a walkathon with words, the Write-a-thon is way to help you reach your writing goals while at the same time supporting Clarion West.
Learn more about the Write-a-thon
---
Time Travel, Telepathy, and Uncharted Territories
An evening with Connie Willis on Sunday, June 26
Join us for an evening with Connie Willis, one of science fiction's wittiest, wisest, and most celebrated authors. Enjoy wine and appetizers with fellow writers and fans and help support Clarion West!
---
Support Clarion West
Clarion West depends on its community to help us provide an amazing, life-changing workshop experience for new writers. Find out more about supporting Clarion West.
---
Alumni News
Our alumni are doing great work! Read the latest updates on our Alumni News page.
---
Connect with Clarion West
You can follow Clarion West on Twitter, like our Facebook page, watch our videos on YouTube, or join the mailing list for information about workshops, events, and alumni news.