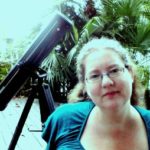 active 4 months, 2 weeks ago
About Me
| | |
| --- | --- |
| Display Name | Octavia Cade |
| Twitter Handle | @OJCade |
| Website | |
What's New
My Progress

11 September:
Extra update! Just to let you know, the labyrinth paper I was working on over the Write-a-thon has been accepted by BFS Journal. Yay!

24 August:
It's done! It's sent! I'm not telling you where, as that seems like tempting fate, but it's done – and I had a co-author! Meryl Stenhouse, an Aussie author who I know quite well. We tend to spend a lot of time bitching about writers who fuck up their biology. Both Meryl and I have backgrounds in biology, and seriously: you do not need to be an expert, but if you can't be arsed to crack open a book to get even the basic details right I don't know why you bother.

But, as has happened before… not entirely relevant. For this paper, we looked at how people engage in ecological action in post-apocalyptic environments. It was really fun to write, and we've been working on this for, well, much longer than we should have been but we are great at procrastination as well as biology, lol.

So that's it! Six papers, over quite a bit longer than six weeks but even so. Done. Thank you to those who donated, I really appreciate it!

5 August:
Alright, I am officially way behind, but never mind that. Still going…

I'm actually getting a bit sick of academic writing, so this is a more informal type of paper. Otherwise known as an article, I suppose! I have no idea where it could be published, but "Science as a Worldbuilding Catalyst" is done, and I quite enjoyed writing this one. To be honest, valuable as I know worldbuilding is, sometimes I'm just over it. Often, I think, writers put in far more than they need to and the bricks they produce because of it could stand to be half the size, do we really need another 800 page tome in the series of unending fucking detail? I think not, but clearly the market disagrees. Anyway, what often doesn't get the worldbuilding attention it deserves is science. It's dropped in there, or not, and often in strange, disconnected pieces. Which I find weird and frustrating, but there you go.

One more paper to go, thank goodness. And this one's kind of a cheat, as it's the first paper I've ever written with anyone else! Readers, I have a co-writer.

24 July:
Progress! Admittedly less than I would like. I'm not sure the Six Weeks part of this challenge is going to work, but anyway. This particular paper I've been working on is a horrible draft about a wonderful novel. Crappy interpretations aside, vampires can still be awesome and so I'm looking at Dracula, specifically vaccination imagery therein. I mean, if you think of vampirism as a contagious disease then you should be able to inoculate against, right? And it's not as if inoculation wasn't around then. Certainly not as much as today, but even back then anti-vaxxers were spreading their filthy germy ideas around, which might be getting slightly off-topic. Ahem.

Anyway, I've got a decent draft now I think, and while I'm planning to send it out I might let it sit for a few weeks first. Just in case. Next up: more science! That is, science as a worldbuilding catalyst in speculative fiction.

15 July:
Progress! I've finished the third paper in my Six Weeks, Six Papers challenge. The one looking at lanyrinths in fantasy lit. To be honest, the draft has been sitting on my computer for years, and it was – to put it kindly – a mess. On the bright side, I can now see that it's a mess, which I only suspected a few years back, so that must mean my writing's improved somewhat.

The worst of it was waffle. Seriously, all the academic papers I've read over the past few years and they just go on and on, some of them. Well, so did this. Fixing it was less editing than setting fire to great swathes of prose and letting them all burn to ash. I cut the thing down by several thousand words and it's much better. Anyway, I think I'll be sending it out soon. Wish me luck!

Anyway, on to the next paper. It's only going so well at this point, admittedly, because my computers littered with crappy drafts so much of the research has already been done, but anyway. Next up, Dracula.

8 July:
Progress! I've finished the second paper in my Six Weeks, Six Papers challenge. I've fixed the sad little draft of the Quakers-in-space paper, and "An Island Life, a Continent: Isolation, Migration, and Choice in Molly Gloss' The Dazzle of Day" is done and ready to be sent forth into the world. Not for the first time, it has to be said. Sad draft was sad because it had been rejected once before, so I let it sit for ages until I could figure out what was wrong with it. No, the previous rejection did not help in that respect, lol.

So, anyway, onto paper three: another sad draft that has been sitting idle for, honestly, the better part of a decade. I'm afraid to look at it at this point. I can hardly picture how horrible it will be. Anyway, it's on labyrinths in fantasy lit. Which gives me an excuse to talk about The Tombs of Atuan, and Tolkien's Dead Marshes, and any number of other favourite mazes…

1 July:
Progress! I've finished the first paper in my Six Weeks, Six Papers challenge. It took a while, but I finally pulled together about half a hundred different drafts of "Eco-Horror, Mutation, and the World Without Us" into something that is hopefully comprehensible and interesting. And I've just submitted it, so even better.

Onto Week 2, and this week I'm looking to finish and submit a paper on the science fiction novel The Dazzle of Day by Molly Gloss. It's a story about a colony ship of Quakers who leave an ecologically devastated Earth to try and find a planet where they can live in a more environmentally friendly way. I first came across the book when I was asked to take part in a round table on it for Strange Horizons several years ago, and was quickly fascinated. I love it, and for this challenge in particular it's carrying on the focus on environmental SFF.

I actually have a fairly strong draft, or so I think, but it needs a whole lot of work to better explain the intersection between environmentalism and Quaker beliefs. I'm not religious myself (never have been) but my Dad's maternal family were Quakers for generations back, or so I understand it, so it's going to be really interesting to look at further I think. Wish me luck, anyway!

Thank you so much to the people who have donated already, and please consider donating to Clarion West either through me or through one of the other writers taking part in Write-a-thon. Their scholarship fund can really use the boost!

23 June:
It's started! Today is the first day of Write-a-thon, and I've set myself the goal of finishing and submitting my paper on Swamp Thing and Godzilla.

That sounds an odd combination, I know. But last December I went to the Superheroes Beyond conference in Melbourne (which was really good!). Anyway, I presented a paper there: "Eco-Horror, Mutation, and the World Without Us", which basically argued for the existence of the ecological superhero, and how maybe the most useful thing that they can do, from a conservation point of view, is start stomping out great swathes of the human race.

Believe it or not, people actually seemed to enjoy it. And I was asked to submit a paper towards a collection of topics presented at the conference. Yay! So, given the deadline's coming up soon, this is my Week One task for Write-a-thon… to construct, from the jumble of my notes and drafts, a cohesive argument for eco-horror and superheroes. Should be fun!
What I Write
What I Write

I've a PhD in science communication, so finding new and interesting ways to write about science is something that really interests me – especially science history, because it's stuffed full of weird stories that people would be absolutely delighted by if they only knew about them!

Publications

My favourite thing I've written – and as far as I'm concerned the best! – is the short sci-fi novel The August Birds, which is available free at the link: time-travelling ravens from Norse myth transport a boy into pivotal moments in science history for every day of the last month of his life.

If you're a science geek you may also like The Ghost of Matter, my SJV award winning novella about Ernest Rutherford, the splitting of the atom, and the ghosts of his drowned brothers. Or there's The Life in Papers of Sofie K., a novella of maths and monstrosity and magical realism centred on the life of the Russian mathematician Sofia Kovalevskaya. Or, if you're into poetry, there's my Elgin-nominated collection Chemical Letters, in which a dead scientist spends her afterlife wandering an apartment block in the form of the periodic table.

I've had nearly 50 short stories published. Some of them that you might like, and which are available to read free online, are The Mussel Eater, The Signal Birds, Crown of Thorns, Crow, and Kelp.
My Write-a-thon Goals
Writing Goals

SIX WEEKS, SIX PAPERS

This is my third Write-a-thon, and I've been wracking my brains for a project. There's so many I want to do! In the end I've plumped for non-fiction, because I'm increasingly enjoying not just writing genre fiction, but also writing about genre fiction. And because my laptop is littered with drafts of academic papers, I'm setting myself the challenge to complete (and submit!) one per week of the Write-a-thon.

Week one: "Eco-Horror, Mutation, and the World Without Us", developed from a paper presented at the Superheroes Beyond conference in Melbourne, December 2018.

I'd like to add, too, that I attended Clarion West 2016, and was only able to do so because I was lucky enough to be awarded a scholarship. Please sponsor me so that other people can benefit in the same way!