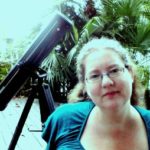 active 4 months, 3 weeks ago
Change Display Name
| | |
| --- | --- |
| Display Name | Octavia Cade |
Updates
| | |
| --- | --- |
| My Progress | 26 June: I'm working on "The Woman Who Didn't Win Nobels" novelette first, and it's going well. In one way I've cheated a bit – this novelette has been driving me crazy for a while now – I got stuck at the very beginning and couldn't seem to find my way past the problem. It didn't help that I didn't know what the problem was. I only knew that there was one! But after giving it concerted effort I think I've sorted it out. I've finished the Lise Meitner third of the novelette, and am nearly done with the Rosalind Franklin section. Hope to have it finished by Sunday, so that for the next fortnight of Write-A-Thon I can focus on novelette #2!!! |
About Me
What I Write

I've a PhD in science communication, so finding new and interesting ways to write about science is something that really interests me – especially science history, because it's stuffed full of weird stories that people would be absolutely delighted by if they only knew about them!

Website
Twitter Handle

@OJCade

Publications

My favourite thing I've written – and as far as I'm concerned the best! – is the short sci-fi novel The August Birds, which is available free at the link: time-travelling ravens from Norse myth transport a boy into pivotal moments in science history for every day of the last month of his life.

If you're a science geek you may also like The Ghost of Matter, my SJV award winning novella about Ernest Rutherford, the splitting of the atom, and the ghosts of his drowned brothers. Or there's The Life in Papers of Sofie K., a novella of maths and monstrosity and magical realism centred on the life of the Russian mathematician Sofia Kovalevskaya. Or, if you're into poetry, there's my Elgin-nominated collection Chemical Letters, in which a dead scientist spends her afterlife wandering an apartment block in the form of the periodic table.

I've had nearly 30 short stories published. Some of them that you might like, and which are available to read free online, are The Mussel Eater, The Signal Birds, Crown of Thorns, Crow, and Kelp.
Write-a-thon Goals
Writing Goals

This is my second Write-A-Thon; I'd never heard of it until I attended Clarion West in 2016 and then I knew I had to give it a try. The only reason I was able to go to CW at all was a very generous scholarship – I'd had to turn down a place at Clarion San Diego two years previously because of lack of money and that was pretty gut-wrenching – so if I can help someone else get to a Clarion workshop in the future I'll be happy.

Given that my Write-A-Thon project last year was non-fiction, I'm going to give fiction a go this year. Specifically, I'll be working on three novelettes:

1) "The Women Who Didn't Win Nobels, And How World Trees Are Not A Substitute" – reimagines Lise Meitner, Rosalind Franklin, and Chien-Shiung Wu spending their afterlives under Yggdrasil and reflecting on women in science.

2) "Otto Hahn Speaks to the Dead" – the dead in question being German chemist Clara Immerwahr, who shot herself after a party celebrating her husband Fritz Haber's successful use of chemical weapons in WW1. Hahn, who worked with Haber, later campaigned against the use of nuclear weapons.

3) "Ernestine" – there are a number of scientists called Ernest, and when Ernestine wanders into a fortune-teller's tent she meets more of her youthful equivalents than she ever asked for.

Clearly I've an interest in science history! I've written three other science history novelettes – "Eating Science with Ghosts", "The Meiosis of Cells and Exile", and "The Backward Lens of Compromise" – all of which have been published in Asimov's.

Six is a nice round number of novelettes for a themed collection I think, so I'm going to use this year's Write-A-Thon to try writing a novelette every two weeks and see if I can finish them off.

Thanks for reading, and please consider supporting Clarion West with a donation! I had a fabulous and extremely useful time there, and I'd love for other writers to have the same opportunity.