Talk Less, Smile More with Curtis Chen
"Dialogue," she said. "It's how we communicate in fiction. But it's not a facsimile of reality."
"Them's a lotta ten-dollar words," he sputtered. "Whaddya mean by all that?"
"I simply mean to say that how people speak is not how characters may talk."
"Jeepers! Tell me more!"
Schedule:
Tuesday, July 14, from 4:00-5:30 PM PDT
90 minutes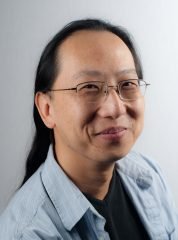 About the instructor:
Once a Silicon Valley software engineer, Curtis C. Chen (陳致宇) now writes fiction and runs puzzle games near Portland, Oregon. He's the author of the Kangaroo series of funny science fiction spy thrillers and a contributor to Ninth Step Station and Machina on Serial Box. Curtis' short stories have appeared in Playboy Magazine, Daily Science Fiction, Oregon Reads Aloud, and elsewhere. His homebrew cat feeding robot was displayed in the "Worlds Beyond Here" exhibit at the Wing Luke Museum. You can find Curtis at Puzzled Pint on the second Tuesday of most every month. Visit him online: https://curtiscchen.com
The lottery form will be available Monday, June 15 through Wednesday, June 17 in the Write-a-thon Slack Page Welcome Channel.
By participating in any activity available in the Write-a-thon, you are agreeing to our Write-a-thon Code of Conduct, the Clarion West Harassment Policy, and our Zoom Guidelines. Thank you! We look forward to writing with you this summer!
Free and Online for everyone. 
Want to donate toward the cost of your class?