Exposition: How to Handle Giving the Reader Information with Tobias Buckell
You're writing about worlds that are new to the reader, and things they've never seen. If you stop to explain everything a reader's momentum could falter. How do you avoid this? Tobias S. Buckell walks you through several strategies to make exposition fun to play with, and not something to fear.
Schedule:
Monday, July 27, from 4:00-6:00 PM PDT
120 minutes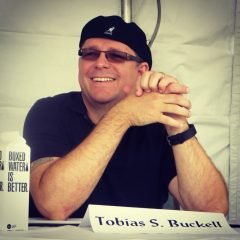 About the instructor:
Tobias S. Buckell is a New York Times Bestselling author and World Fantasy Award winner born in the Caribbean. He grew up in Grenada and spent time in the British and US Virgin Islands, which influence much of his work.
The lottery form will be available Monday, June 15 through Wednesday, June 17 in the Write-a-thon Slack Page Welcome Channel.
By participating in any activity available in the Write-a-thon, you are agreeing to our Write-a-thon Code of Conduct, the Clarion West Harassment Policy, and our Zoom Guidelines. Thank you! We look forward to writing with you this summer!
Free and Online for everyone. 
Want to donate toward the cost of your class?