Hard Science Fiction With Heart with Dominica Phetteplace
Description: Hard Science Fiction is a genre of near-future science fiction that seeks to extrapolate present day science and technology into the future. This class is for those seeking to craft a more inclusive form of this genre. We can do this in two ways: by broadening our definition of what science and technology are and by thinking about the widespread effects of scientific and technological change across society.
Schedule:
Saturday, July 18, from 10:00-12:00 PM PDT
120 minutes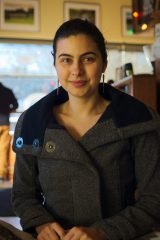 About the instructor:
Dominica Phetteplace writes fiction and poetry. Her work has appeared in Zyzzyva, Asimov's, Analog, F&SF, Clarkesworld, Lightspeed, The Year's Best Science Fiction and Fantasy and Best Microfiction 2019. Her honors include a Pushcart Prize, a Rona Jaffe Award, a Barbara Deming Award and fellowships from I-Park, Marble House Project and the MacDowell Colony. She is a graduate of UC Berkeley and the Clarion West Writers Workshop.
The lottery form will be available Monday, June 15 through Wednesday, June 17 in the Write-a-thon Slack Page Welcome Channel.
By participating in any activity available in the Write-a-thon, you are agreeing to our Write-a-thon Code of Conduct, the Clarion West Harassment Policy, and our Zoom Guidelines. Thank you! We look forward to writing with you this summer!
Free and Online for everyone. 
Want to donate toward the cost of your class?