Making Your Story Openings Stand Out with Scott Andrews
Learn how to make the openings of your short stories stand out in the submissions pile with seven-time World Fantasy Award finalist editor Scott H. Andrews of Beneath Ceaseless Skies magazine.
Magazines get thousands of short story submissions; your story's opening needs to engage the submissions readers immediately. This class will describe how magazine submissions really work and share insight on ways to create engaging first lines and opening paragraphs that bring the reader into the story, and where to go after that. Analysis of opening lines and paragraphs from a variety of published stories will highlight different approaches that have worked for some great stories and can in your own work. Discussion of concepts, techniques, and examples will give you tools for crafting story openings that can stand out in the submissions pile.
Schedule:
Wednesday, July 22, from 5:00-7:00 PM PDT
120 minutes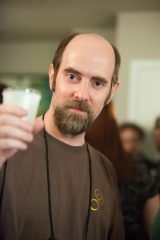 About the instructor:
Scott H. Andrews lives in Virginia with his wife, two cats, eleven guitars, a dozen overflowing bookcases, and hundreds of beer bottles from all over the world. He writes, teaches college chemistry, and is Editor-in-Chief and Publisher of the six-time Hugo Award finalist online fantasy magazine Beneath Ceaseless Skies.
Scott is a graduate of the Odyssey Writing Workshop. His literary short fiction has won a $1000 prize from the Briar Cliff Review, and his genre short fiction has appeared in Space & Time, Crossed Genres, and Ann VanderMeer's Weird Tales.
Scott has taught writing at the Odyssey Workshop, Writefest, and online for Odyssey Online Classes and Cat Rambo Academy for Wayward Writers. He has lectured on short fiction, secondary-world fantasy, editing, magazine publishing, audio podcasting, beer, and heavy metal on scores of convention panels at multiple Worldcons, World Fantasy conventions, and regional conventions in the Northeast and Midwest. He is a six-time finalist for the World Fantasy Award, and he celebrates International Stout Day several times a week.
The lottery form will be available Monday, June 15 through Wednesday, June 17 in the Write-a-thon Slack Page Welcome Channel.
By participating in any activity available in the Write-a-thon, you are agreeing to our Write-a-thon Code of Conduct, the Clarion West Harassment Policy, and our Zoom Guidelines. Thank you! We look forward to writing with you this summer!
Free and Online for everyone. 
Want to donate toward the cost of your class?