The Business of Writing with Jennifer Brozek
To be a writer is to be a business person. There are many aspects to the business of writing (outside the actual act of writing itself) that must be done for you to have a successful career—no matter if it is fiction, non-fiction, part-time, full-time, or just twice a year. Scheduling, deadlines, record keeping, contracts, invoicing, travel, social media, and more. All of it is necessary in today's publishing business. Learn tips and tricks, see examples, and learn how to pick your battles to keep all of it in line.
Schedule:
Tuesday, June 30, 4:00-6:00 PM PDT 1
20 minutes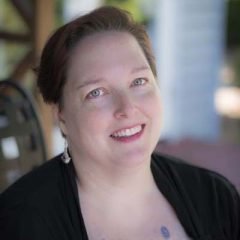 About the instructor:
Jennifer Brozek is an author, a media tie-in writer, an editor, and a collector of antique occult literature. She believes the best thing about being a full-time freelance publishing industry professional is the fact that she gets to choose which 60 hours of the week she works. A Hugo Award finalist and a multiple Bram Stoker Award finalist. She has worked in the publishing industry since 2004. With the number of edited anthologies, novels, RPG books, and nonfiction books under her belt, Jennifer is often considered a Renaissance woman, but she prefers to be known as a Wordslinger & Optimist. In-between cuddling her cats, writing, and editing, Jennifer is an active member of SFWA, HWA, and IAMTW. She keeps a tight writing and editing schedule and credits her husband with being the best sounding board an author could have. Visit Jennifer's worlds at jenniferbrozek.com or on Twitter: @JenniferBrozek.
The lottery form will be available Monday, June 15 through Wednesday, June 17 in the Write-a-thon Slack Page Welcome Channel.
By participating in any activity available in the Write-a-thon, you are agreeing to our Write-a-thon Code of Conduct, the Clarion West Harassment Policy, and our Zoom Guidelines. Thank you! We look forward to writing with you this summer!
Free and Online for everyone. 
Want to donate toward the cost of your class?