Understanding Your Inner Editor with Julia Rios 
Some additional room has been made available for this event! Register here to join the session.

Some writers plan things out well in advance and others write things down in an unplanned rush. Regardless, most of us have an inner editor—the critical voice that tells you you're doing something wrong. How do you quiet it down when it's overzealous? When and how can it help to listen to your inner editor? This workshop will go over some tools for helping your wildly creative side coexist in peace with your orderly and critical side, and for understanding how (and when) to polish your words.
Schedule:
Saturday, July 25, from 3:00-5:00 PM PDT
120 minutes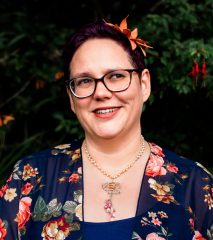 About the instructor:
Julia Rios is a queer, Latinx writer, editor, podcaster, and narrator whose fiction, non-fiction, and poetry have appeared in Latin American Literature Today, Lightspeed, and Goblin Fruit, among other places. Their editing work has won multiple awards including the Hugo Award. Julia is a co-host of This is Why We're Like This, a podcast about how the movies we watch in childhood shape our lives, for better or for worse. They've narrated stories for Escape Pod, Podcastle, Pseudopod, and Cast of Wonders. Find them on Twitter as @omgjulia.

The lottery form will be available Monday, June 15 through Wednesday, June 17 in the Write-a-thon Slack Page Welcome Channel.
By participating in any activity available in the Write-a-thon, you are agreeing to our Write-a-thon Code of Conduct, the Clarion West Harassment Policy, and our Zoom Guidelines. Thank you! We look forward to writing with you this summer!
Free and Online for everyone. 
Want to donate toward the cost of your class?