Running From Bears
February 10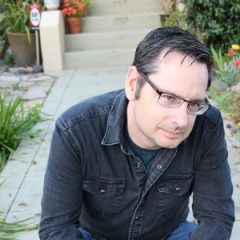 February 10 2019, 10 a.m. to 4 p.m.
University District, Seattle
Daryl Gregory's college acting teacher once told him that you can't play running from a bear — you can only run to what's going to save you: the tree, the shotgun, or that spot just past your slower brother Louie. In this workshop you'll learn how to create compelling stories by focusing on the essence of drama: characters who want something specific and fail to get it — or realize it's not what they needed after all. Through exercises and discussion you'll learn practical techniques for creating dynamic plots, believable characters, and scenes that matter.
Daryl Gregory is an award-winning writer of genre-mixing novels, stories, and comics. His most recent novel, Spoonbenders, out from Knopf and Vintage, is a Nebula, Locus, and World Fantasy Award finalist for 2018, and was an Amazon Top 20 book of the year. The book is being developed for television by Paramount and Anonymous Content.
Many of his short stories are collected in Unpossible and Other Stories, which was named one of the best books of the year by Publishers Weekly. He wrote the choose-your-own-adventure-style video game, Flatline, for Big Fish Games. His comics work includes Legenderry: Green Hornet, The Planet of the Apes, Dracula: The Company of Monsters (co-written with Kurt Busiek), and the graphic novel The Secret Battles of Genghis Khan.
Daryl is a frequent teacher of creative writing and has taught at Clarion West, Viable Paradise, Aspen Words, and the Locus Workshop, among other venues. He grew up in Chicago and now lives in West Seattle, where he spends a lot of time in coffee shops. If you see him, say hi! You can also find him online at www.darylgregory.com and on twitter @darylwriterguy.