Designing Magic Systems
Wednesday, May 27, 5pm-6pm
Designing Magic Systems with James L. Sutter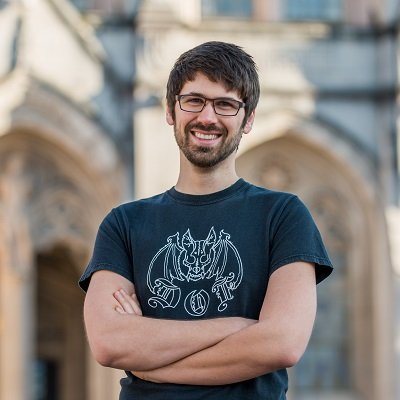 Magic is the heart of fantasy, but how do you design a magic system that grabs your readers or players without breaking everything? Whether you prefer the heavily codified magic of Brandon Sanderson and Dungeons & Dragons or the mysterious miracles of myth and legend, this class will teach you tips and tricks for structuring your supernatural elements and using them to enhance your fantasy settings. Learn to design a complete magic system in five minutes or less!
Class open to everyone age 18 and over.
Wednesday, May 27, 5pm-6pm
About the instructor: 
James L. Sutter is a co-creator of the Pathfinder and Starfinder Roleplaying Games. For thirteen years, he worked as an editor and game designer at Paizo Publishing, eventually becoming both the Starfinder Creative Director and the Executive Editor of the Pathfinder novel line for Tor/Macmillan. He is the author of two novels: Death's Heretic, a finalist for the Compton Crook Award for Best First Novel, and The Redemption Engine, which won the 2015 Scribe Award for Best Original Speculative Tie-In Novel. He has also written comics, video games, and a wealth of award-winning tabletop gaming supplements, plus essays and short stories for such publications as Escape Pod, Apex Magazine, Queers Destroy Science Fiction, Clarkesworld, Beneath Ceaseless Skies, and the #1 Amazon bestseller Machine of Death. You can find him online at jameslsutter.com or on Twitter at @jameslsutter.
About registration:
The recommended class fee is $50. Discounted options are available for $25 and $10. Select one option that is best for your budget needs. We are also holding space available in all classes for free by lottery system (see below). We are asking everyone to please restrict your class registration to one class during registration on Sunday. If there is still room available later in the week for the classes you are interested in, please go ahead and register.
Class Format & Accessibility:
One online class session through Zoom.us.
Class is run online. If you have questions about the format or content, please contact oneday@clarionwest.org.
Zoom meetings software is compatible with standard screen readers and has several other accessibility features that make it possible for writers who are Blind or vision impaired to participate in the webinar.
Questions can be submitted via the meeting software chat function or via voice.
Zoom is free for attendees. Please plan to register with Zoom in advance and download on your device. You will be sent a link to your Zoom class in your class email confirmation in the bottom last section of your confirmation. If you do not see a confirmation, please email us at oneday@clarionwest.org at least two hours before the start of class.
For best results, plan to connect to the class approximately 5 minutes before the start. You will be muted upon entry, but our workshop staff will be setting you to 'allow to talk' as they see you join. Plan to have your device on mute unless you are invited to talk to the class. Some instructors will ask you to turn on your camera either throughout the class or during discussion. Classes may be recorded to provide for student review.
We do not have live closed captioning for our webinars at this time.
Cancellations
If you register but cannot attend the workshop, please give us as much notice as possible so that we can contact a waitlisted student and offer them your spot. In order to process a refund, we must receive 24-hour notice and be able to fill the spot with a waitlisted student. Exceptions may be made given emergency circumstances at administrator's discretion. If Clarion West cancels the class for any reason, refunds will be made as soon as possible after the class has been cancelled.