Romantic Elements in Speculative Fiction
April 28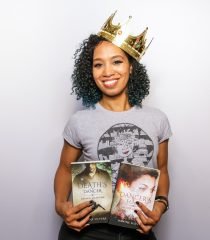 April 28, 2019, 10 a.m. to 4 p.m.
University District, Seattle
In this workshop, writers will learn how romantic attraction between characters can be used to add dimension to conflict and raise the stakes in the plot while avoiding the common pitfalls that elicit reader groans (and not the good kind).
After defining romance as a genre, we'll discuss how romantic elements appear in various speculative fiction sub-genres and reader expectations. The workshop will cover specific elements in romantic interaction: how far to go on the page, consent, and whether a "happily ever after" is a requirement.
Working from examples in popular culture and published stories, we'll interrogate what makes romantic sub-plots fly or fail, and how tropes work for and against writers. Participants should come prepared to troubleshoot their work with short writing exercises designed to help round out characters and deepen their interactions.
Class will not address writing explicit sex scenes or erotica, but will include issues of sex and sexuality.
Considerations:
This class tackles adult themes and may include adult language. Although the best efforts will be made to be inclusive of the spectrum of sexuality, the instructor acknowledges her own bias toward hetero-cis interactions and will encourage participants who self identify in other groups to add their impressions as they are comfortable.
Jasmine Silvera is the author of the Grace Bloods romantic urban fantasy series, including the novels Death's Dancer, Dancer's Flame, and The Talon and the Blade (forthcoming 2019). www.jasminesilvera.com
Silvera is the pen name of Seattle based writer and editor Rashida J. Smith. She attended Clarion West Writer's Workshop in 2005, and is the former editor of the 2017 Hugo Finalist for Best Semiprozine Giganotosaurus. She now serves on the Clarion West board of directors and is a member of the Romance Writers of America.