Making Your Stories Stand Out
March 31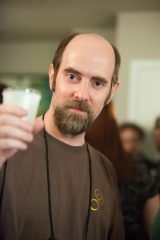 March 31, 2019, 10 a.m. to 4 p.m.
University District, Seattle
Learn how to make your short stories stand out in the submissions pile with six-time World Fantasy Award finalist editor Scott H. Andrews.
Magazines get thousands of submissions. Most of them have interesting ideas or thoughtful writing, but they aren't what that editor is looking for, or they have an opening that doesn't connect with the reader, or they're merely good but not great, in the story's ideas or execution or engagement. Many writers who are actively submitting to magazines but receiving lots of rejections wonder: what does it take for a story to break through the slush pile and get published?
This workshop will share insight on how magazine submissions really work and how to gauge what editors are (and aren't) looking for. Analysis of the opening lines and paragraphs from a variety of published stories will highlight different approaches that have worked for some great stories and can in your own work. A great story's engagement with readers can come from fresh ideas, personal investment by the author, or emotional resonance; discussion of concepts, techniques, and examples for these elements will give you tools for leveling-up your own stories from good to great and making them stand out in the submissions pile.
Scott H. Andrews lives in Virginia with his wife, two cats, eleven guitars, a dozen overflowing bookcases, and hundreds of beer bottles from all over the world. He writes, teaches college chemistry, and is Editor-in-Chief and Publisher of the six-time Hugo Award finalist online fantasy magazine Beneath Ceaseless Skies.
Scott has taught writing at the Odyssey Workshop, Writefest, and online for Odyssey Online Classes and Cat Rambo Academy for Wayward Writers. He has lectured on short fiction, secondary-world fantasy, editing, magazine publishing, audio podcasting, beer, and heavy metal on scores of convention panels at multiple Worldcons, World Fantasy conventions, and regional conventions in the Northeast and Midwest. He is a six-time finalist for the World Fantasy Award, and he celebrates International Stout Day several times a week.