Summer Six-Week Workshop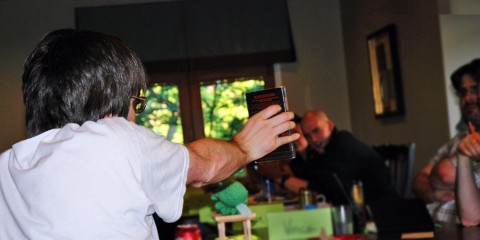 June 21 – July 31, 2015
Every summer, Clarion West holds an intensive six-week workshop in Seattle's University District, geared to help you prepare for a professional career as a writer of speculative fiction. Each workshop is limited to 18 students, and each week features a different instructor, a highly regarded author or editor offering their unique perspective on the field.
Short fiction is the workshop's focus, with an emphasis on science fiction, fantasy, and horror. Come prepared to write several new stories, to experiment and take artistic risks, and to give and receive constructive criticism.
You'll work closely with instructors in group critiques of newly written stories, discussions about writing techniques or professional concerns, and individual or small group conferences. And you'll be a part of Seattle's vibrant SF community, as the workshop presents informal sessions with acclaimed area authors.
You'll come away with essential tools for improving your writing as well as a set of friendships and professional contacts that can last a lifetime.
Applications for the 2015 workshop will open in December 2014.
Instructors for 2015

Andy Duncan has won a Nebula Award, a Theodore Sturgeon Memorial Award and two World Fantasy Awards for his short fiction, which is collected in Beluthahatchie and The Pottawatomie Giant.

Eileen Gunn is known for her wryly intelligent stories that consistently surprise and delight readers. She has received the Nebula award in the United States and the Sense of Gender award in Japan, and has been nominated for the Hugo, Philip K. Dick, and World Fantasy awards, and shortlisted for the James Tiptree. Jr. award.

Tobias S. Buckell was born in the Caribbean, grew up in Grenada, and spent time in the British and US Virgin Islands, which influence much of his work. His novels and over 50 stories have been translated into 17 different languages.

Connie Willis is an internationally known science fiction author and the winner of an unprecedented total of eleven Hugo Awards and seven Nebula Awards. She is the first author to have ever won both awards in all four fiction categories.

Nalo Hopkinson, born in Jamaica, is a Jamaican-Canadian whose taproots extend to Trinidad and Guyana. Her writing has received the John W. Campbell Award, the Locus Award, the World Fantasy Award, the Sunburst award (twice), and the Norton Award.

Cory Doctorow is a science fiction author, activist, journalist and blogger — the co-editor of Boing Boing and the author of young adult novels like Homeland, Pirate Cinema, and Little Brother; and novels for adults like Rapture of the Nerds and Makers.