Summer Six-Week Workshop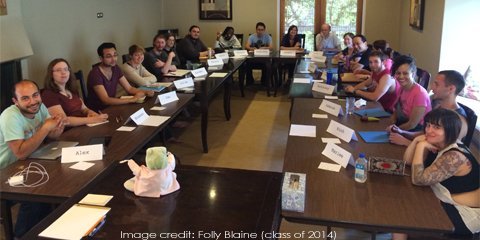 June 21 – July 31, 2015
Applications are now closed for the 2015 workshop.
Every summer, Clarion West holds an intensive six-week workshop in Seattle's University District, geared to help you prepare for a professional career as a writer of speculative fiction. Each workshop is limited to 18 students, and each week features a different instructor, a highly regarded author or editor offering their unique perspective on the field.
Short fiction is the workshop's focus, with an emphasis on science fiction, fantasy, and horror. Come prepared to write several new stories, to experiment and take artistic risks, and to give and receive constructive criticism.
You'll work closely with instructors in group critiques of newly written stories, discussions about writing techniques or professional concerns, and individual or small group conferences. And you'll be a part of Seattle's vibrant SF community, as the workshop presents informal sessions with acclaimed area authors.
You'll come away with essential tools for improving your writing as well as a set of friendships and professional contacts that can last a lifetime.
Clarion West charges a nonrefundable application fee of $30 (USD), which is payable via PayPal. The fee increases to $50 for applications received after February 10, 2015.
Clarion West is dedicated to promoting new voices in speculative fiction and offers a generous amount of scholarship support, made possible by our passionate and dedicated community. All students are encouraged to apply for scholarships.
For more information about applications, the Clarion West experience, and life after Clarion West, please see our FAQ.
Download a PDF flyer with application information here. (If the file does not display correctly in your browser, please save the PDF to your computer and open in Adobe Reader.)
Application materials
To apply to Clarion West, you will need the following:
Sample of your work, consisting of a total of 20 to 30 pages of manuscript (one or two short stories, or a novel excerpt with a synopsis of up to three pages). Your manuscript should be formatted in 12-point Courier (typewriter) font and double-spaced, with one-inch margins. (See Vonda McIntyre's manuscript preparation guide and William Shunn's story formatting guide for more information.) It should not exceed the page limit, even if it includes a synopsis. Set your margins flush left and do not justify the text. We prefer PDF documents, but also accept DOC and RTF files. Do not upload DOCX or ODF files.
A 700- to 800-word description of your background and your reasons for attending the workshop. This essay will be used to introduce you to the workshop's instructors if you are accepted. Include your contact information through June: phone number, email address, and mailing address.
Scholarship form (if you choose to apply for financial assistance). Download a scholarship form here. (PDF form, requires Adobe Reader.)
Please see our FAQ for specific questions about applying to Clarion West. You may also want to join our mailing list, follow us on Twitter, or like us on Facebook.
Applications are now closed for the 2015 workshop.
Costs
The total cost to attend the workshop is $3800; this covers tuition, room, and partial board (light self-serve breakfast daily, and lunch and dinner Monday-Thursday). All students stay in the workshop residence. Wireless Internet access is free.
Scholarships
All students are eligible for scholarships. You can apply for a scholarship when you apply for the workshop on this site, or request a scholarship form via an email, phone call, or letter, or print one out from our website. Scholarships are allocated primarily based on need.
Special needs
Our scholarship funds include some assistance for special needs students.
Instructors for 2015

Andy Duncan has won a Nebula Award, a Theodore Sturgeon Memorial Award and two World Fantasy Awards for his short fiction, which is collected in Beluthahatchie and The Pottawatomie Giant.

Eileen Gunn is known for her wryly intelligent stories that consistently surprise and delight readers. She has received the Nebula award in the United States and the Sense of Gender award in Japan, and has been nominated for the Hugo, Philip K. Dick, and World Fantasy awards, and shortlisted for the James Tiptree. Jr. award.

Tobias S. Buckell was born in the Caribbean, grew up in Grenada, and spent time in the British and US Virgin Islands, which influence much of his work. His novels and over 50 stories have been translated into 17 different languages.

Connie Willis is an internationally known science fiction author and the winner of an unprecedented total of eleven Hugo Awards and seven Nebula Awards. She is the first author to have ever won both awards in all four fiction categories.

Nalo Hopkinson, born in Jamaica, is a Jamaican-Canadian whose taproots extend to Trinidad and Guyana. Her writing has received the John W. Campbell Award, the Locus Award, the World Fantasy Award, the Sunburst award (twice), and the Norton Award.

Cory Doctorow is a science fiction author, activist, journalist and blogger — the co-editor of Boing Boing and the author of young adult novels like Homeland, Pirate Cinema, and Little Brother; and novels for adults like Rapture of the Nerds and Makers.